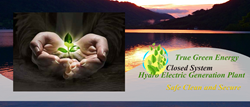 The global renewable energy industry is worth $615 billion," says Scott Cooper, CEO and Creative Director of World Patent Marketing. "Declining costs in this industry have spurred exponential growth over the past few years and in the near future
Miami, FL (PRWEB) September 09, 2016
World Patent Marketing, a vertically integrated manufacturer and engineer of patented products, introduces the Closed System Hydro Electric Plant, a clean energy invention that uses water power to create renewable energy.
"The global renewable energy industry is worth $615 billion," says Scott Cooper, CEO and Creative Director of World Patent Marketing. "Declining costs in this industry have spurred exponential growth over the past few years and will continue in the near future."
"We, as a species, are always looking for new sources of energy that can replace fossil fuels," says Jerry Shapiro, Director of Manufacturing and World Patent Marketing Inventions. "Water is one of those potential forms of energy, and this clean energy invention creates a cheap but effective source of energy."
The Closed System Hydro Electric Plant is a clean energy invention that eliminates the need for fossil fuels or nuclear power with a renewable, water-based form of energy. It creates a closed system in which the water enters to begin powering the turbine and air is used to displace water in the tanks to compensate for water passing through the system. This happens until the system is fully charged. It will produce power efficiently anywhere, reducing the strains on the national power grid such as those caused by severe weather, solar storms, and EMP bursts. This allows it to be placed closer to where they are needed, without being tied to dams or rivers. The goal of this invention is to replace the need for fossil fuels and create a source of energy that is cleaner, more efficient, and more reliable. The invention will allow for the use of water from any lake or river or public water system, or even treated waste water, and or treated Industrial waste water. The plants built to be scaled up or down as needed so it can be used by utilities or industrial facilities. The Closed System Hydro Electric Plant will change the way water is harnessed and used as a source of energy.
"The process will provide true green energy," says inventor Samuel P. "It will be safe, clean, and secure and will surpass COP21, EPA, and CPP standards. The process will be efficient and produce clean energy 24 hours a day, 7 days a week for about 100 years, extending its efficiency far beyond that of any of the so-called green alternatives currently available. It will be the lowest cost and cleanest form of long lasting energy that can be placed anywhere. A 50 year study of power across all methods, conducted by Lavagent for A.C.O.R.E., hydroelectric power is quoted as costing .02 cents per KWH. This would very easily be reduced to .01 or .015 cents per KWH or less, without a dam's added costs, making our process for hydroelectric power the cheapest form of power production across all methods."
The Closed System Hydro Electric Plant is a clean energy invention that provides a self-fueling closed source of energy. The invention is revolutionary. In essence, it is a "drop-in" hydro electric power plant that can be placed anywhere, in all climates and locations, and will make intelligent use of space without huge wastes of space
ABOUT WORLD PATENT MARKETING
World Patent Marketing is always looking for new cool invention ideas. The company provides invention services and is one of the only patent companies that engineers and manufactures its own products. The company is broken into six operating divisions:
Patent Assistance and Research * Prototypes and Manufacturing * Distribution and Retail * Digital Marketing and Social Media * Direct Response TV and Internet Video Production * Patent Licensing & Investments
As a global leader in the patent invention services industry, World Patent Marketing is by your side every step of the way, utilizing its capital and experience to guide the invention process towards a successful product launch so you can be one of the next World Patent Marketing Success Stories.
World Patent Marketing Reviews enjoy an A+ rating with the Better Business Bureau (World Patent Marketing BBB) and has earned five-star ratings from Google and consumer review sites such as Consumer Affairs, Trustpilot, Shopper Approved, Customer Lobby, ResellerRatings, My3Cents and World Patent Marketing Glassdoor.
The CEO of World Patent Marketing, Scott Cooper, is also a Director of The Cooper Idea Foundation is the founder of the New York Inventors Exchange and has also been a proud member of the National Association of Manufacturers, Duns and Bradstreet, the US Chamber of Commerce, the South Florida Chamber of Commerce, the Miami Beach Chamber of Commerce, the Greater Miami Chamber of Commerce, the Association for Manufacturing Excellence and the Society of Plastics Engineers.
Those who are wondering how hard is it to get a patent or how much does it cost to patent an idea, should contact the invention marketing experts.
World Patent Marketing credits its invention success to it's powerful and influential advisory board and its controversial "shock content" approach to invention marketing. According to Scott J. Cooper, the CEO and Creative Director of World Patent Marketing, "complaints from competitors are just part of the World Patent Marketing cost of doing business."
To submit invention ideas, contact World Patent Marketing at (888) 926-8174. Corporate headquarters located at 1680 Meridian Avenue, Miami Beach, Florida 33139.