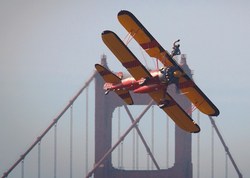 "We are the Air Extreme Team. We are the ones setting aviation records in the 21st Century," said Ragozzino. "We have a slogan, 'Records Falling From the Air'. We aren't going to stop till we break a dozen great aviation records
San Francisco (PRWEB) June 17, 2010
Legendary air show wing walking performer Ashley Battles, Tulsa, Okla., and world record pilot Robert Ragozzino, Sausalito, California, will team up June 19 in San Francisco to attempt a new Guinness World Record™ for endurance wing walking. The attempt will take place at noon over San Francisco Bay in the shadow of The Golden Gate Bridge.
Battles, a 27-year-old known for her nerves of steel, will climb up and out of her seat and up on the wing. She will attempt a five-hour wing walk atop Ragozzino's Super 450 Stearman biplane. The current record, set in France, now stands at 3 hours 23 minutes.
"Ashley is an amazingly courageous and talented woman. We are optimistic that she will be able to overcome the pain and set this record," Ragozzino said. "Standing on the wing of an airplane moving at 100 miles per hour requires tremendous concentration and determination."
He adds that conditions, such as the weather and mechanical perfection must be in order to set the new record.
Battles and Ragozzino will be using the same 450 Super Stearman Ragozzino flew around the world in 2000.
He became the first to fly around the world solo open cockpit.
We call our team 'The AX Team, for Air Extreme Team. "We are the ones setting aviation records in the 21st Century," said Ragozzino. "We have a slogan, 'Records Falling From the Air'. We aren't going to stop till we break a dozen great aviation records, period."
Ragozzino already has his eye on the next aviation record he plans to break. The AX Team already has a half finished exact replica of the Charles Lindbergh's Spirit of St. Louis. Ragozzino will fly solo from New York to Paris as a re-enactment of the flight that launched the development of commercial aviation. The Spirit of St. Louis 2 flight is scheduled for takeoff May 20, 2012. The Spirit of St. Louis 2 Project is actively seeking sponsorship.
"We need more visionary sponsors and partners to keep making aviation history happen!" said Ragozzino.
###