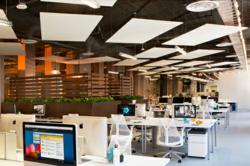 It 'brings the city into the office'
Washington, DC (PRWEB) November 23, 2011
Amazon-backed Daily Deal website Living Social was awarded "World's Coolest Office" by Inc.com, a subsidiary of Inc. Magazine. OTJ Architects of Washington DC created the winning interior design The six international winners will appear in Inc. Magazine's December 2011 issue.
Inc.com selected Living Social's newly renovated headquarters in Washington, DC based on OTJ Architects' unique and modern urban twist to a historic DC building. It "brings the city into the office" by emulating a Washington, DC row house neighborhood – complete with park-like meeting spaces.
OTJ Architects' designers, Kim Picklap and Kyle McMahon, worked in close collaboration with Living Social to create an "urban office with a nod to history." According to Kim Picklap, "We used standard materials in unexpected ways. It creates a design paying homage to the historic architectural elements of the building while giving the space a fresh feel."
As one of the fastest growing architecture firms in the country, OTJ Architects was recognized by Interior Design Magazine's "Design Giants" list for the past five years. OTJ Architects has 5 design studios that worked on over 3,000 design projects in the DC Metropolitan area and nationwide. They were named Architectural Firm of the Year in 2008 by the Greater Washington Commercial Association of Realtors.
###