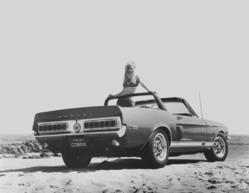 BOCA RATON, FL (PRWEB) January 25, 2012
The world's rarest muscle car, the only 1967 Shelby GT Convertible ever built, will be displayed this February 27th at the 2012 Boca Raton Concours d'Elegance.
Ordered in the highly desirable color combination of Candyapple Red with a white top and black deluxe interior, the November '66 built car received Shelby American sequence number 0139.
Initially, this convertible was assigned to Carroll Shelby as his personal driver and was regularly loaned to celebrities, friends, employees and visiting Ford executives.
In April 1967, this lone convertible was refitted with prototype fiberglass body parts so that it could be extensively photographed for print ads, brochures, and dealer literature to promote the upcoming 1968 Shelby GT Cobra cars.
In addition to its rarity and desirability, the one-off 1967 Shelby GT Convertible also lays claim to being:

The only big block GT convertible built by Shelby American, Inc. (Los Angeles)
The only dual-quad carbureted Shelby GT (or Ford Mustang) convertible built
One of two 1967 model year vehicles to be classified as "1968 Prototypes"
The most expensive GT 500 company car in Shelby American's inventory (FY-1967)
Owners Samantha and Brian Styles couldn't be more pleased to have completed the restoration of their 1967 GT Convertible in time for the 50th anniversary of the Shelby Cobra, and are even more excited to have this unique car on display at the very event where Carroll Shelby will be presented with the Automotive Lifetime Achievement Award.
For more information on the 1967 Shelby GT 500 Convertible, including original factory documentation, vintage photographs, classic advertisements, interviews, and restoration photos, please visit the car's own dedicated website at http://www.1967shelbyconvertible.com.
The sixth annual Boca Raton Concours d' Elegance is honoring the 50th anniversary of the Shelby Cobra, the 50th anniversary of James Bond and the upcoming 100th Anniversary of Aston Martin. The tremendous commemoration will take place February 24th - 26th, 2012 at the Boca Raton Resort & Club in Boca Raton, FL. One of the country's biggest and most influential automotive events, the Boca Raton Concours d' Elegance spans three days with an exciting line-up of activities, all to benefit the Boys & Girls Clubs of Broward County.
For additional information on the Boca Raton Concours d' Elegance and to see a full schedule of events, please visit BocaCDE.com. The website will provide up-to-date important information as the event evolves – so check back daily. All events are open to the public with tickets sold separately. Tickets can be purchased for the Friday night duPont Registry Live! Hangar Party; the Saturday Gala dinner; the Sunday Concours Automobile and Motorcycle exhibit; and the Concours d' Gourmet Café. To purchase tickets, please call 954-537-1010 or visit http://www.bocaCDE.com.
###