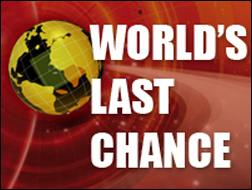 Bible prophecy shows that we will soon be facing stupendous calamities all over the world. Our health will be taxed to the uttermost. God seeks that we be in best of health to face this crisis
(PRWEB) November 16, 2006
World's Last Chance, a website dedicated to sharing end-time prophecies, has released a new health article titled "Heaven's Healing" (http://www.worldslastchance.com/heavens_healing.php)] explaining eight natural remedies to obtain God's healing.
"Bible prophecy shows that we will soon be facing stupendous calamities all over the world. Our health will be taxed to the uttermost. God seeks that we be in best of health to face this crisis," stated Dahlia Doss of World's Last Chance. "Optimum health is not beyond reach. We can understand how to achieve it by studying the God's Word."
With every manufactured good comes an instructor's manual on how best to service and use it. When our Creator created us, with His own finger, God wrote His law upon every nerve, every muscle, and every faculty which has been entrusted to us. He also gave us an "instructor's manual" on how best to keep our bodies functioning optimally. These instructions are found in the Bible. The Bible gives us of the laws of health, which our bodies are governed by. And for every offense committed against these principles of health, the transgressor must pay the penalty in his body. As sin is the transgression of God's moral law; disease results from the transgression of God's physical laws found in nature. All our enjoyment or suffering may be traced to obedience or to transgression of the natural law.
The eight remedies God has provided in His Word to maintain health, prevent disease and obtain healing are simple, universal and inexpensive. These true remedies are pure air, sunlight, abstemiousness, rest, exercise, proper diet, the use of water, and trust in divine power. The new article Heaven's Healing empowers the reader with the knowledge of nature's remedial agencies and how to apply them.
World's Last Chance believes that our health is very important because our spirituality is, to a large extent, dependent on our health. Doss believes that "Many do not fully understand the strong connection between the mind and the body. The body is a most important medium through which the mind and the soul are developed for the up-building of character. We should not do anything that weakens the health of our body because we are God's property, we have an eternal crown to win, a heaven to gain, and a hell to shun."
Click here to read the article.
About US:
"WATCHING, WAITING, WORKING" IS OUR MOTTO
World's Last Chance is a ministry operated by a small team of volunteers dedicated to sharing, before the imminent Second Coming of Christ, the last message of mercy given in the Bible.
The Bible, and the Bible alone, is our creed and our rule of faith because human beings are fallible, but God's Word is infallible.
Our Team believes that just as the message of Christ's First Advent was based on prophecies, the message of His Second Coming is based on distinct prophecies. The Savior Himself has given signs of His coming again, saying, "When ye see these things come to pass, know ye that the kingdom of God is nigh at hand." Luke 21:31. We realize that we have reached the period foretold in this scripture. The time of the end has come. The visions of the prophets are unsealed, and their solemn warnings point us to our Lord's glorious coming as near at hand, even at the door.
We are burdened to share the wonderful news of His Soon Second Coming with you.
We would like to call attention to the fact that the Bible says that God's holy day of worship is Saturday. This is very important as this will be the final test for God's people before the Second Coming - will we obey God or man?
# # #