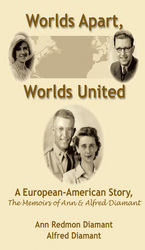 Bloomington, Ind. (Vocus) December 12, 2010
Worlds Apart, Worlds United: A European-American Story, The Memoirs of Ann and Alfred Diamant (published by AuthorHouse), by Ann Redmon Diamant and Alfred Diamant, is an engrossing, heartwarming love story that spans two continents and more than six decades.
Ann Redmon was the daughter of Protestant farmers in Columbus, Indiana. Alfred (Freddy) Diamant was the son of a Jewish merchant family in Vienna, Austria. They came from vastly different worlds. Yet, when they met during World War II, something ignited between them, something so profound that it overcame those differences.
Worlds Apart, Worlds United begins with Ann's and Freddy's early lives. Ann, growing up in rural Indiana, with a love of learning and a budding appreciation for the arts, planned an academic career. However, the Great Depression forced her to enter the workforce. Her experiences would reveal to her the social injustices in the world, particularly in regards to women's rights. She would later become a dedicated supporter of human rights and an ardent feminist. In 1942, as a civil servant at Fort Benjamin Harrison, Indianapolis, she met a corporal. His name was Alfred Diamant.
Freddy grew up in a Jewish merchant family in Vienna. He was fascinated by classical music and history, but the rise of Nazism crushed his dream of teaching history. Freddy would miraculously survive the horrors of Kristallnacht and eventually escape to Kitchener Camp in England and then to the U.S. Tragically, most of his family would perish in the coming Holocaust. Freddy would go on to join the U.S. Army, a position that landed him at Fort Benjamin Harrison and into the path of Ann Redmon.
During WWII, Freddy survived critical injury as a parachutist. He would go on to pursue his academic dreams and a 40-year career in political science. Ann's love for teaching and learning would be expressed through her work with Christian education and the League of Women Voters. Their nomadic academic life would take them from Indiana University in Bloomington in the 1940s to such places as Yale, the University of Florida, Haverford College, UCLA, across Europe, and eventually back to Indiana University and Bloomington during the campus unrest of the 60s and 70s. Along the way, they overcame numerous adversities. Their memoirs include 67 photos and 15 family trees.
Worlds Apart, Worlds United is the story of two remarkable people whose lives touched countless others in memorable ways. Ann and Freddy's marriage and successful careers stand as testaments not only to their tenacity in overcoming life's obstacles, but also to the heights that can be achieved when facing life with your best friend by your side.
About the Authors
Ann Redmon Diamant and Alfred Diamant met at Fort Benjamin Harrison in Indianapolis and married during World War II. Despite their vastly different backgrounds, they forged a happy marriage of more than 60 years. Ann passed away in February 2003. Freddy, who has just celebrated his 93rd birthday, lives an active life in Bloomington, Indiana.
AuthorHouse is the leading provider of self- publishing, marketing, and bookselling services for authors around the globe. For more information, visit http://www.authorhouse.com.
###