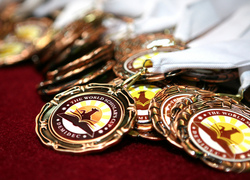 You make friends from places you've never heard of, and it turns out they're just like you.
(PRWEB) June 4, 2010
Nearly 600 top students and future leaders from 30 countries will come together at Concordia International School Shanghai June 18-20 for the 2010 Global Round of the World Scholar's Cup
Each year, World Scholar's Cup participants from around the world explore a different cutting-edge global theme. At tournaments they participate in four main events: team debate, a multiple choice challenge, persuasive writing, and a live-action quiz show, the Scholar's Bowl, in which teams race the clock to answer tough questions using special clickers.
This year's theme is A World Divided.
"It's not just about political division," confides the founder of the World Scholar's Cup, Daniel Berdichevsky, 33. "Students look at all kinds of divisions, both the ones we choose and the ones chosen for us: the divisions between the sick and the healthy, between men and women, between the wealthy and the poor, between different branches of the same religion… and, of course, between countries."
Shanghai is the perfect venue for this year's culminating Global Round. Explains Berdichevsky: "Not only is it a multicultural city straddling the divide between tradition and modernity, but the theme connects perfectly with the Shanghai Expo—which is literally divided into exhibits from all around the world."
The World Scholar's Cup launched in spring 2007 with a ten team, three country tournament in Korea. This year nearly 600 students (in 200 teams of three) will come to Shanghai from all corners of the globe. Many have already participated at recent regional rounds in Europe, Asia, North America, and the Middle East.
Teams often spend weeks or even months delving into the theme before a tournament, drawing on materials provided at no cost by the World Scholar's Cup organization. They research special topics—such as national anthems, the history of visas and passports, and even the possibility of time travel—and practice debating resolutions from across six subjects: economics, science, the arts, history, literature and the psychology of war. Students also read a selected novel that explores the theme from a literary perspective. Guy Gavriel Kay, the award-winning Canadian author of this year's selected novel, The Lions of Al-Rassan, accepted an invitation to be the event's keynote speaker and special guest of honor.
Unlike some other academic tournaments, World Scholar's Cup pushes all students to learn new subjects, such as psychology, film, and the arts, and to practice new skills, such as public speaking, team debate, and persuasive writing. "No one comes into the Scholar's Cup already good at everything," concludes Berdichevsky, who cites his own life-changing experience in an American interdisciplinary academic competition, the Academic Decathlon, as one of his inspirations for founding the World Scholar's Cup.
Winners walk away with medals and trophies, but the greater story is what the students learn from their international peers and about themselves. There are teams from war-torn countries such as Georgia and Lebanon, and others from the premiere schools in academic powerhouses such as the United States and Singapore. There are students who desire to come, but struggle to attend because of government restrictions or financial obstacles.
"You make friends from places you've never heard of, and it turns out they're just like you," says Bunnie Hadsall, a former participant from Arizona who now volunteers for the organization.
Many students are drawn to World Scholar's Cup for the competition, but participants consistently rate the non-academic challenges as their favorite parts of the program. One highlight is the Scholar's Scavenge, in which randomly-assigned teams of ten students from ten different countries race to solve clues and snap winning photos. This year's Scholar's Scavenge will take place at the Shanghai Expo on Friday, June 18th. Students walk away not just with amazing photographs, but with friends they will interact with on the international stage for the rest of their lives.
"It's ironic," says Berdichevsky, "our theme may be a world divided, but our objective is to help bring the world together."
On June 18th and 19th, all tournament events, including Writing, the Scholar's Challenge, and Team Debate, will take place at Concordia International School Shanghai. "We are honored that Concordia accepted our invitation to host this year's global round," says Berdichevsky. "We were struck from the moment we first toured the campus by its open, communal spaces and its commitment to both educational excellence and world-class green technology. You can tell Concordia is looking to give its students a truly 21st century learning experience."
On June 20th, all teams will migrate to the Shanghai Center Theater on East Nanjing Road for the climactic Scholar's Bowl and closing ceremonies. The public is welcome to attend all events.
The World Scholar's Cup is a nonprofit organization and depends on the generosity of its sponsors, including DemiDec, Meridia Audience Response, Zip-scan, Asia Clean Capital, the Princeton Review, and the Zebra Pen Corporation. Individuals and companies interested in supporting the World Scholar's Cup should e-mail contact@scholarscup.org.
###