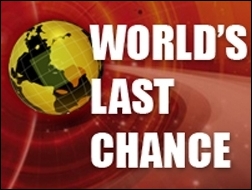 And what 'The Great Controversy' sees coming is not based on guesswork. It is based on a source of predictions which has never yet missed in its prophecies
Cairo, Egypt (PRWEB) July 10, 2007
World's Last Chance is offering a free download of the book 'The Great Controversy.' They assert that it is the most important book to read after the Bible. This book exposes the great conflict through the ages between God and Satan down to last day events yet to take place.
From the first edition in 1884, this best seller has achieved worldwide circulation of over 50 million copies in many languages. 'The Great Controversy' begins at the dawning of the Christian era, traces the rise and fall of nations and religious powers down to today, then plunges ahead to preview the future. "And what 'The Great Controversy' sees coming is not based on guesswork. It is based on a source of predictions which has never yet missed in its prophecies," said Dahlia Doss of World's Last Chance.
With reference to the circulation of this book, the author E. White wrote, "The Great Controversy … contains the story of the past, the present, and the future. In its outline of the closing scenes of this earth's history, it bears a powerful testimony in behalf of the truth." The writer was almost killed several times when writing this book.
The title of this book refers to a great cosmic war that erupted in the universe thousands of years ago and has raged ever since. "Few people alive today realize that this Earth is the primary battle zone of that war. And fewer still know why the war is being fought and how and when it will end. But after reading this book you will be one of them," Doss added.
'The Great Controversy' illuminates the controversy between darkness and light, sin and righteousness, wrong and right, death and life and includes chapters like: The Destruction of Jerusalem; Persecution in the First Centuries; An American Reformer; A Great Religious Awakening; Prophecies Fulfilled; Modern Revivals; Why Was Sin Permitted?; Enmity Between Man and Satan; Snares of Satan; Spiritualism; Aims of the Papacy; The Impending Conflict; The Scriptures a Safeguard; The Final Warning; The Time of Trouble; and God's People Delivered.
"We are glad to make this must-read book freely available for all who wish to become more aware in the times that we are living in," said Doss.
To download an electronic copy of this book, click on the following link: http://www.worldslastchance.com/online_library.php .
This book is available online from the above link in 28 different languages.
About World's Last Chance
World's Last Chance (http://www.WorldsLastChance.com) is a ministry that was founded in 2004. It is operated by a small team of volunteers dedicated to sharing the last message of mercy given in the Bible and the wonderful news of the soon second coming of Christ.
For additional information please contact Dahlia Doss at +249 923 539 500.
###