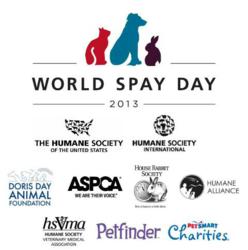 (PRWEB) February 06, 2013
The Humane Society of the United States and Humane Society International are pleased to announce that World Spay Day takes place on Tuesday, Feb. 26, 2013 during Spay/Neuter Awareness Month. World Spay Day is an annual campaign that promotes spaying and neutering as a proven, effective means of preventing pet overpopulation and saving animals' lives.
Hundreds of World Spay Day events will take place in the United States and dozens of countries around the world on World Spay Day and throughout the month of February. To find a World Spay Day event near you, visit worldspayday.org. The Humane Society of the United States and Humane Society International, in partnership with the Doris Day Animal Foundation, the ASPCA, the House Rabbit Society, the Humane Alliance, the Humane Society Veterinary Medical Association, Petfinder, and PetSmart Charities® serve as proud partners of World Spay Day 2013. World Spay Day 2013 is sponsored by Abaxis.
"I was so pleased when I heard the results from World Spay Day in 2012," said legendary actress Doris Day. "It is a dream come true for me to see how the spay/neuter program has grown over the years and how, by working together, the Doris Day Animal Foundation, along with the Doris Day Animal League under the supervision of The Humane Society of the United States have been able to accomplish so much. This year the Doris Day Animal Foundation will award a $75,000 grant to fund spay/neuter for pets in 16 towns and cities in 14 states."
World Spay Day provides a unique opportunity for everyone who cares about animals to come together towards a common goal – a global, united solution to end the euthanasia and suffering of homeless companion animals, feral cats and street dogs.
"Sterilizing dogs and cats is the best way to stem the overpopulation of cats, dogs and other pets and to prevent homelessness and suffering," said Wayne Pacelle, president and CEO of The Humane Society of the United States. "World Spay Day allows caring people the world over to come together and raise awareness about the life-saving benefits of spaying and neutering, and we are thrilled to be at the forefront of this global effort."
Founded as Spay Day USA in 1995 by the Doris Day Animal League, the program has grown to include participants in 45 countries. Events include low and no-cost spay/neuter clinics for under-served communities, fundraisers to benefit spay/neuter programs and educational campaigns. Since Spay Day's inception, it is estimated that more than one and a half million animals have been spayed or neutered in conjunction with the campaign.
Highlights for World Spay Day 2013 include:

The HSUS partnering with the ASPCA to host a low-cost spay/neuter event for residents of East Harlem in New York City on Feb. 23.
PetSmart Charities® funding "Beat the Heat," a grant program enabling 61 clinics to spay more than 15,500 cats during Spay/Neuter Awareness Month.
The Humane Society of Tampa Bay spaying or neutering 60 pets on World Spay Day.
The Iowa Humane Alliance dedicating Spay/Neuter Awareness month to rabbits and hosting "Twenty Bunny Monday" on Feb. 25, a day reserved solely for spaying or neutering twenty rabbits.
East Tennessee Spay Neuter hosting "Hunka, Hunka Furry Love"—featuring "crooning" dog Melvis—on Feb. 9 to sign up low-income pet clients for spay/neuter.
The HSUS will also host a World Spay Day 2013 online Pet Pageant. Participants can begin uploading their pet's photo to the online photo pageant Feb. 4 at noon EST. The pageant ends March 15 at noon EST. All proceeds from the pageant benefit local U.S. non-profit organizations participating in World Spay Day. Visit humanesociety.org/petpageant for more details.
For more information about World Spay Day 2013 and to find local events, please visit: worldspayday.org.