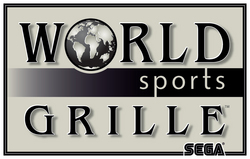 Tucson, AZ (PRWEB) July 24, 2009
World Sports Grille at Foothills Mall will commemorate its first anniversary with events and specials throughout the month of August and continuing through Labor Day weekend.
Kicking off the festivities will be an anniversary celebration on Saturday, August 1 from 1:00 p.m. to 2:00 a.m. Everyone who attends will receive a coupon for $10 in free video game play in World Sport's Grille's game room, which features 6,000 square feet of state-of-the-art video games, prize games, and simulators. From 1:00 to 7:00 p.m., guests will enjoy half-price draft beer, house wine, well drinks, and appetizers. Tuffy the Toro, mascot of the Tucson Toros, will make an appearance. And these are just the highlights - for more information, visit http://www.worldsportsgrille.com/anniversary.
General Manager Rebecca Bowers said, "Since we opened our doors at the end of July 2008, the Tucson community has welcomed us with open arms. Sports fans have flocked to World Sports Grille to cheer on their favorite teams in a wide variety of sports. Our Happy Hour has become one of Tucson's most popular weeknight options. And our game room has become very popular among both casual and serious gamers. We can't wait to thank the community on August 1 with free game play, great values, and lot of fun for the whole family."
Pat Hart, Executive Vice President of Operations for Sega Entertainment USA, Inc., adds, "There's really no place like World Sports Grille in Tucson. We offer an atmosphere that's comfortable for guests of all ages - and there are so many different ways to have a great time here. Sample our huge draft beer selection at the bar. Relax with a glass of wine on our year-round patio. Enjoy a delicious lunch or dinner in the dining room. Watch sports on our 103-inch TV. Play our incredible video and prize games. Guests can have a different experience with each visit, and I think that's one of the real keys to our success."
The World Sports Grille anniversary celebration continues in August with a Triathlon game tournament, and culminates on Saturday, September 5 with the tournament finals and a football season kickoff event, again featuring half-price food and drink specials. Details may be found at http://www.worldsportsgrille.com/anniversary.
About World Sports Grille:
Owned and operated by Sega Entertainment U.S.A, Inc. (SEUI), World Sports Grille is a unique casual dining and entertainment concept, featuring familiar foods with a touch of flavor from around the world, a huge selection of draft beers, state-of-the-art sports viewing and interactive games, and tournament-quality pool and darts. SEUI is a division of Sega Sammy Holdings, Inc. (SGAMF), a Japan-based holding company whose Amusement Facility segment is engaged in the development, operation, rental and maintenance of amusement facilities.
###