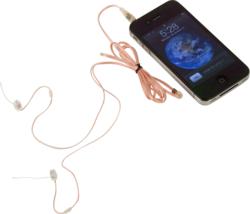 When I wear my earHero earphones while running I feel like there is nothing there. They stay in place and I can have a conversation with my running partner. It gives me that little boost on those tough days.
Angela H.
Boise, ID (PRWEB) April 17, 2012
Most earphones used for runners or bikers focus on sealing the ear so that the user is isolated and only able to hear their own music. Without the ability to hear environmental sounds, a dangerous situation is created. earHero, http://www.earhero.com, offers the new World's Safest Earphone. earHero's proprietary, patent pending, product uses miniature speakers that are so tiny they never block the ear canal, making them comfortable and clear.
Clinical audiologist and inventor Matt Murphy knew that standard earphones were unsafe because they isolated the wearer from dangers in the environment. Additionally, when the user sealed their ear with typical earphones the sound pressure would likely cause hearing loss over time.
Murphy noted that, "if your ears are ringing after listening to your earphones for a period of time the chances are good that you have initiated a temporary hearing loss. Repeated use can lead to a Permanent Threshold Shift, also known as permanent hearing loss".
To prevent these issues Murphy created a product that would allow people to listen to music while at the same time maintaining awareness of sounds around them. "The earHero earphones do not seal the ear so the sound pressure is released and the outside sound is allowed to enter the ear," explained Murphy.
Being an audiologist, Murphy used products that were typically found in high end hearing aids and created a few prototypes for testing.
After 7 years of research and development earHero earphones were recently released to the marketplace. This product is small, comfortable, and has good sound quality.
In addition to the outdoor enthusiast market earHero earphones are currently placed in various United States governmental security departments.
More information on earHero earphones can be found at http://www.earhero.com.
Matt Murphy is a clinical audiologist with a private practice in Boise Idaho. Matt and his wife Mali are audiologists, members of the American Speech and Hearing Association and owners of House of Hearing Audiology Clinic, a family business that was started in 1974, http://www.houseofhearingclinic.com. Matt specializes in testing and fitting of the latest hearing aid technology and is dedicated to helping seniors with all of their hearing needs. Matt is also the founder of earHero Sales, Inc., http://www.earhero.com and developer of the earHero line of earphones that allow the user to listen to music or two-way radio and maintain constant awareness to environmental sounds.
Matt can be reached via email at matt(at)earhero(dot)com.