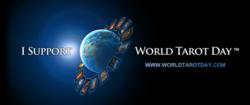 Tarot: No Longer What You Thought It Was.
London (PRWEB) May 24, 2012
Is Tarot the new Kabbalah? The 10th annual World Tarot Day™ (May 25th 2012) celebrates the unprecedented growth of interest in Tarot worldwide. Tarot Readers and Students join Tarot Professionals, the worlds first professional organisation for the study and development of Tarot card reading.
Fashion designers such as Sattya Paul and Karl Lagerfeld, authors such as J. K. Rowling (Harry Potter) and Erin Morgenstern (Night Circus), and artists including Francesco Clemente and Tracey Emin have brought Tarot into the mainstream, drawing a new audience to discover the tarot through social media and bespoke networking sites such as Tarot-Town.
World Tarot Day™ (founded by Den Elder in 2003) celebrates the tarot as an authentic spiritual method of self-discovery and divination for modern life. It is rapidly becoming a tool for our times which has seen a phenomenal upsurge of interest during recent economic, political and spiritual uncertainty. In response to this growth, Tarot Professionals, the largest tarot organisation of its kind, presents World Tarot Day™ to provide support and education for tarot enthusiasts and professionals worldwide.
Visitors to the site discover a range of announcements and activities during the day. A large free online Tarot lesson will attract hundreds of new students to Tarot reading. Tarot enthusiasts around the world of every level of interest can join linked social media sites to share their work.
A media pack and Tarot activities sheet are available on the main site at:
http://www.worldtarotday.com.
For more information on Tarot and World Tarot Day™, please contact our Marketing Director, Tali Goodwin.
About Tarot & Tarot Professionals
Tarot arose in the 15th century, in Italy, and has since proven popular throughout the world as a means of self-discovery, spirituality and divination beyond its original card-playing origins. It is now regularly used by hundreds of thousands of readers and students, with approximately a thousand different tarot decks in publication.
Tarot is usually composed of a deck of 78 cards, broken into four suits (Pentacles, Swords, Cups and Wands) with Ace-Ten and four Court Cards, plus twenty-two Major Arcana such as the Lovers.
The origin of the word is unknown however it is believed to be of Italian origin, perhaps first referring to "triumphs" or the "trick-taking" aspect of the game of Tarot. It is probably best-known for its appearance in a range of films and TV shows, including the James Bond film, Live and Let Die, in which Jane Seymour, as "Solitaire" used a special deck actually designed for the film by Surrealist Scottish artist Fergus Hall, who also designed covers for the band, YES.
Tarot Professionals is the largest professional worldwide organisation for Tarot readers, students and enthusiasts. It offers education, advice and support for all Tarot readers and students.
To discover more about Tarot Professionals, visit http://www.tarotprofessionals.com
The social network for Tarot Professionals, Tarot-Town, has over 8000 members and offers courses in Tarot, video lessons and innovative social sharing of Tarot exercises and experiences.