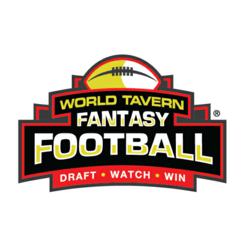 We see this as a great opportunity to expand our product line and continue on our mission to help bars and restaurants build their business
Durham, North Carolina (PRWEB) July 21, 2011
The wait is over and World Tavern Entertainment® is excited to announce the launch of their newest bar entertainment product, World Tavern Fantasy Football.
Pig-skin loving bar patrons around the country will have the opportunity to create their ultimate dream football team while receiving points every week and competing for the supreme football prize package – tickets to the 'Big Game' in Indianapolis.
World Tavern Fantasy Football® brings a unique twist to traditional fantasy football that will challenge your fantasy skills even further and bring an entirely new level of excitement to the game including player substitutions and live trade parties! Best of all, it is absolutely FREE to play.
"Many of our current Poker and Trivia customers asked if we could develop a program that would drive more customers to their bars to watch the Sunday and Monday night games, and that is exactly what World Tavern Fantasy Football does", said Mike Matsinger, President of World Tavern Entertainment.
WTFF provides team owners huge incentives for watching the games at their hosting tavern, including making up to 3 player substitutions each week.
"We are incredibly excited about the launch of Fantasy Football," said Pete Zimmermann, Vice President of Sales at World Tavern. "With more than 15 million Americans playing fantasy football, we see this as a great opportunity to expand our product line and continue on our mission to help bars and restaurants build their business," added Zimmermann.
For more information, please visit http://www.WorldTavernFootball.com or call (866) 765-3722.
About World Tavern Entertainment®
World Tavern Entertainment® is a bar entertainment company based in Durham, North Carolina. World Tavern Entertainment® provides low-cost, high-profit promotions to bars and restaurants across the country. Promotions include World Tavern Trivia® - an exciting live team trivia league, as well as their pioneer product, World Tavern Poker® - the country's largest poker league with more than 350 hosting venues and over 140,000 registered players. World Tavern Entertainment's corporate website (http://www.WorldTavernEntertainment.com) contains additional information about franchising opportunities.
###