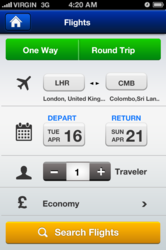 (PRWEB UK) 24 April 2013
World Travel Globe is now working with international travel sites to make locating flights, hotels, transportation, and other travel-related venues a breeze. Now, app users can browse lists of cost-efficient travel accommodations pulled up by a variety of travel site platforms with the use of one site, http://www.worldtravelglobe.com.
"I'm excited that we have travel sites on board," said Crellin. "As an engineer, I'm always on the go, and use this app every other week when I travel, which happens to be half of each month. Anything that can make work and personal life simpler – I'm game for."
The World Travel Globe app funnels multiple channels of information into one platform, so users can research their upcoming place of travel with one click. The app collectively reports information including the country population, visa requirements, spoken language, currency used and exchange rate, weather, time differences, and more.
Additionally, the app provides easy-to-use features like picture galleries for easy research, local restaurant menus and hours, as well as public transportation information like metro and subway maps and schedules.
Vacationers, especially those who travel internationally, can also use the What's Hot feature of the app. In particular, users can check in on ongoing events and major attractions by using the World Travel Globe app without having to visit multiple web pages for varying sources of information.
To use the main feature of the app, iPhone users simply spin the globe, and then pick from a list of ongoing carnivals, festivals, major sporting events, and more in a particular desired locale. By doing so, travelers can discover new places and adventures to take, whether they plan for a trip long in advance or schedule an impromptu one on a whim.
"The app's easy to use, and can open you up to places and events you never knew existed," said Crellin. "Travelling is my passion, in part because it's showed me there's so much more existing beyond my daily work routine."
About World Travel Globe
World Travel Globe is an iPhone application that assists with the planning of trips. Spin the globe and hit anywhere in the world to discover new places and adventures for travel destinations, including ongoing events like festivals, major sporting events, carnivals, and more. World Travel Globe will pull up the necessary information from all over the web to help plan a trip from the convenience of your phone, supplying the user with related regional information, weather forecasts, currency and exchange rates, time differences, and visa requirements.
To see what World Travel Globe can do for you, visit http://www.worldtravelglobe.com.