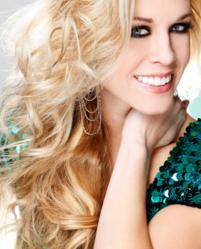 She epitomizes what it means to be a WorldVentures Representative
PLANO, TX (PRWEB) May 30, 2012
WorldVentures announced today that it is an official sponsor of MISS WISCONSIN USA® 2012, Emily Guerin, also a Representative for the Texas-based company. The 23-year-old will be competing alongside 50 other contestants from across the United States for the title of MISS USA® June 3 in Las Vegas.
Since she joined WorldVentures nearly three years ago, the 23-year-old Wisconsin native has become a student of the company's training programs, which, she says, has contributed to her success in the pageant world. "The professional- and personal-development training helped me become an effective communicator," Guerin says. "At WorldVentures I found a network of individuals participating in these programs who helped me develop the courage to take a chance in the pageant world. Since becoming a Rep, I have achieved more goals, gained more confidence and become more centered."
Guerin has also become an avid supporter of the company's nonprofit, the Manifest Foundation, "dedicated to creating lasting, positive change in the world by impacting the lives of children." She says if she wins the crown June 3, she would dedicate time to aiding the organization and raising awareness of its projects, which include "voluntourism DreamTrips." These immersion experiences give vacationers the opportunity to not only explore exotic locations, but also to help many of those most in need. Guerin traveled to Guatemala on an October 2011 voluntourism DreamTrip to build schools using discarded plastic bottles.
"We're proud to sponsor Emily as she pursues the MISS USA® title," says WorldVentures Co-Founder and CEO Mike Azcue. "She epitomizes what it means to be a WorldVentures Representative—she's actively pursuing her dreams, she's taking advantage of our training to further develop herself and grow as a person, she's experiencing the joy of fulfillment from helping others and she's having fun. The WorldVentures family supports Emily in her efforts, and we look forward to watching her compete June 3."
About WorldVentures
WorldVentures is a lifestyle company on a mission to help people achieve more fun, freedom and fulfillment in their lives. Combining the power of the Internet with the strength of the direct-selling industry to market its DreamTrips Memberships, WorldVentures is a leader in leisure travel. WorldVentures is a privately held company based in Plano, Texas, with active Representatives and members in 21 countries.
For inquiries, contact:
Virginia Walker
Email: press(at)worldventures(dot)com