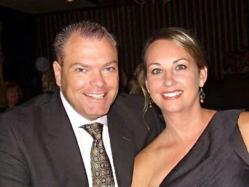 "We thought we were just joining a travel club." This was far from the truth
(PRWEB) November 27, 2012
Dreams and goals can be reached, but when Chris and Rita Mayberry hit their goal, they found it to be lacking. With many successful businesses stretched across the state and a career in the hospital operating room, the Mayberry's thought they had reached the success they wanted. However, this was far from the truth. The days were filled with busyness, long work hours and stresses that never seemed to fade. Cell phones, pagers, messages added to the issue and it wasn't until they realized the problem that they could work on the solution.
Just a Travel Club?
The WorldVentures opportunity presented itself to Chris and Rita Mayberry at an odd point in their life. They were both too busy to take a vacation, but both knew that it was necessary. A co-worker of Rita's had presented the business to her on one of her long operating room shifts. She talked to Chris about it and he eventually went to a travel party at her co-workers house and even signed up without Rita knowing. After a terse review of WorldVentures, "we thought we were just joining a travel club," Rita said. This was far from the truth.
Experience Is The Best Teacher
To test the quality of the WorldVentures opportunity, Chris and Rita planned a DreamTrip to San Francisco. They had both been to this location before and thought it would accurately measure the quality of what WorldVentures had to offer. Needless to say, they were pleasantly surprised. The trip exceeded their expectations and they knew they had found an opportunity that appealed to them as well as some of their friends who enjoyed traveling as well. Thus, their WorldVentures community had started.
The Road to a WorldVentures Success
After taking their first DreamTrip, Chris and Rita Mayberry were hooked. They had already had financial success in their current professions and now they wanted, not only the financial success, but the time freedom that came with it. They saw others in the company who had the income freedom but none of the time constraints that came with it. That was their goal and they pushed forward as much as possible. They contribute much of their success to their marriage which has become stronger as a result of WorldVentures. When they reached the goal of National Marketing Director, they set their sights on retiring Rita from her career in the operating room. As an International Marketing Director, Chris and Rita Mayberry have certainly become a pinnacle of the WorldVentures leadership team and will continue to live out their new success story and help other people achieve it too.
Click the link to read many more WorldVentures reviews.