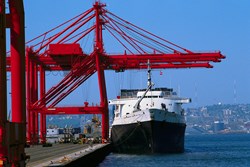 BSL has been through trials of expanding its services to every city on the globe. BSL is glad that BSL stands as a proficient moving company within its existing span of three decades
CA, USA (PRWEB) April 14, 2013
Bluesea Shipping Lines have expanded their tri-decade old shipping to Dammam. Dammam is the capital of Saudi Arabia (Eastern Province). Shipping from USA, UK to Dammam opens fresh avenues to trade goods/ large consignments in a hassle free manner. A spokesperson at BSL quotes, "BSL has been through trials of expanding its services to every city on the globe. BSL is glad that BSL stands as a proficient moving company within its existing span of three decades".
A shipping organization definitely needs to be well-acknowledged on safe shipping routes of a nation. Packing is also a unique art necessitated with sturdy expertise. Commodities need to be sorted dimensionally. Goods of contrasting dimensions and characteristics if placed together may bring harm to each other. Commodities of even dimensions are usually packed adjacently, so that they stay safe through the transport. BSL provides professional packaging services from home/godown to ensure safe shipment of products.
BSL offers secured car shipping services to Dammam, "Overall, BSL shipping services are manipulated on being a complete solution for relocating or trading. BSL consider the essentialities of individual clients and if necessary, may also reach to an extent of altering BSL package on the sole benefit of that particular client". BSL seems to have impressed consumers with its friendly and cooperative attitude. Bluesea Shipping Lines is looked upon as one of the finest contemporary packers and movers association, as is estimated by survey on consumer forums.
BSL also offers door to door pickup and delivery services in contrast to movers who often ask consumers to carry goods to the company's office/ warehouse, from where they prepare it for shipping. Apart from door to door services, BSL also extends door to port and port to port services to cater to the needs of the client.
Dammam is the largest city in the Eastern Province of Saudi Arabia and is well-connected by transport routes. However, BSL assures transport through safe routes only, where there are fewer stances of perilous interruptions. Bluesea Shipping Lines also serve an insurance cover upon the damage of clients' goods during shipping.
From packaging to delivering of goods doorstep BSL takes care of it all when it comes to shipping goods. One can opt for half load container (LDC) or full load container (FLC) as per their shipment needs.
About Bluesea Shipping Lines
Bluesea Shipping Lines has withstood stiff competition dropped in by contemporary packers and movers. The association has achieved a bright and trustworthy tag in its 34 years of service. BSL is very prompt at individual requirements of consumers. It seems to have cultivated itself as an expert in international shipping. BSL operates over a broad complex of nations and provides shipping services to both urbanized and remote areas of the West and Middle East. BSL has also launched an online tracking facility via which consumers may trace the shipping status of their goods.
For more details, visit: http://worldwideshipping.com/shipping-dammam.php
LAN Services is an Online Marketing partner of Bluesea Shipping Lines, Inc. The webmasters at LAN Services optimize the websites for their customers effectively to increase the visibility in all the major search engines like Google, Yahoo and Bing. At LAN Services, the team ensures that one's website seen by millions of people worldwide.
Contact Details:
5655 Silver Creek Valley
Road, Suite 436
San Jose, CA 95138
Sales: 1-408-687-4728
Toll-free: 1-877-294-8739
Site: http://lanservices.com