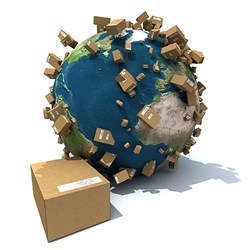 BSL listens to unique necessities of each consumer so that they are completely satisfied with their services and revert positively
CA, USA (PRWEB) April 23, 2013
Bluesea Shipping Lines proffers safe and convenient shipping services to Dar Es Salaam from USA. Various companies in the USA opt to export their products to Africa. The eastern part of Africa has grown up to be an effectual trading center. Shipping companies prefer in demand as companies to transport their goods overseas for expansion of their commerce. Currently, there is no other safe medium for transporting large container goods other than to hire freight agencies for shipment. The major benefit offered by reliable freight agencies is affordable shipping with assurance of insurance coverage.
Bluesea Shipping Lines offers sea freight services from USA to Dar Es Salaam. A technician at BSL says, "BSL provides a complete kit of shipment services, inclusive of packing, wrapping, loading and delivering goods. BSL listens to unique necessities of each consumer so that they are completely satisfied with their services and revert positively". BSL uses special robust containers for packing goods.
Commercial goods are to be handled with extra caution. Any damage caused to the client's property will tend to be harmful for his business. BSL seems to have ignored such threats and it reassures consumers over the safety of the shipment. Residential and commercial goods are dissimilar in their worthiness and cost. Bluesea Shipping Lines has sorted various insurance schemes for goods. A consumer is free to evaluate the cost of his products and choose an appropriate insurance coverage accordingly.
The company declares that the containers used by it are robust and sturdy, which protect goods during the sea journey. A spokesperson at Bluesea Shipping Lines says, "A businessperson places an order entrusting us with the responsibility of safe shipment. BSL put in theri best to abide by their requirements so that they turn up being satisfied". The company seems to be quite promising and also possesses an experience of 34 years in the field of transport and shipment. It ships commercial cars and containers from USA to Dar Es Salaam.
The utility of freight agencies is also quite evident in online business. An e-commerce site allows international consumers to place an order. Dispatching ordered goods to the doorstep of an international customer is quite tough. Goods may be spoiled during transport. But, hiring a reliable and experienced company like BSL may evade such troubles. The organization exerts pride on their services and tends to expand it considerably.
About Bluesea Shipping Lines
Bluesea Shipping Lines is experienced for over 34 years in the sphere of shipment. International shipping and transportation have facilitated further development of commercial import and export. A company cannot remain confined within its national market; for further recognition and success it needs to promote its products overseas. Here lies the significance of international freight agencies and Bluesea Shipping Lines is one of these well accomplished agencies. The commercial hub of USA relies on their overseas market for more profit. Bluesea Shipping Lines seems to complement this tendency of American businesses. Bluesea Shipping Lines has withstood the competitive sphere prevailing amongst contemporary freight agencies and has acquired a good reputation in this field. It offers a wide assortment of commercial and international shipping services.
LAN Services is an Online Marketing partner of Bluesea Shipping Lines, Inc. The webmasters at LAN Services optimize the websites for their customers effectively to increase the visibility in all the major search engines like Google, Yahoo and Bing. At LAN Services, the team ensures that one's website seen by millions of people worldwide.
Contact Details:
5655 Silver Creek Valley
Road, Suite 436
San Jose, CA 95138
Sales: 1-408-687-4728
Toll-free: 1-877-294-8739
Site: http://lanservices.com