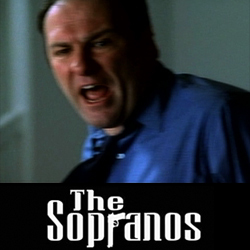 We appreciate that our great clients made terrific creative choices and trusted our ideas
Hollywood, CA (PRWEB) June 26, 2008
When members of the Sopranos family say, 'Don't stop,' you don't stop.
And World Wide Wadio didn't.
The all-star team of writers, directors, producers and sound designers was unstoppable at the 2008 PROMAX Awards show in New York City earlier this month - until it reached a record-setting total of 22 trophies for its heralded work in entertainment promotion.
"Even though we've more than a thousand awards in the past, this is by far our biggest showing in a single night," said Paul Fey, World Wide Wadio president.
But the tally isn't just a personal best for World Wide Wadio - it's also quite possibly an all-time record high for PROMAX itself. (Researchers are still crunching the numbers, made more complicated by the way some campaigns are submitted to the competition by multiple parties.)
"While conglomerates may claim higher numbers by combining all their companies' winners, we're fairly sure World Wide Wadio's showing represents the most awards for any single company," Fey said.
Six of the company's 22 trophies were awarded to an integrated campaign it created for The Sopranos on A&E. In the spots, clips of Sopranos characters speaking the words 'don't' and 'stop' are edited into a wildly entertaining montage over the Journey song, 'Don't Stop Believin'.' The spots capitalized on The Sopranos' controversial ending on HBO, just in time to steer viewers to begin watching the show on A&E.
Wadio also picked up PROMAX medal for Twentieth Television's Family Guy campaigns 'Rude, Crude and Lewd' and 'Freakin' Sweet' (4 awards); for their King of the Hill campaign 'Yep' (3 awards); for the History Channel show 1968 With Tom Brokaw (3 awards); for TBS show House of Payne (2 awards); and for Gene Simmons Family Jewels on A&E; and Criss Angel Mindfreak on A&E (1 award each.)
The winning commercials can be heard on the World Wide Wadio website, http://www.wadio.com/promax2008.html.
"We are proud that the best entertainment brands in the world trust us with their major projects," said Fey, who accepted the awards on behalf of the company.
Trust is the recurring theme behind World Wide Wadio's 2008 success. "We appreciate that our great clients made terrific creative choices and trusted our ideas," said Fey. "We're like David, the 12-person creative boutique, besting Goliath, the international conglomerates," Fey added with a smile. "David didn't stop, either."
Tony Soprano would be proud.
About PROMAX:
PROMAX is the worldwide association of entertainment marketers, promoters and designers, representing more than 500 television stations and all major broadcast and cable networks from the U.S. as well as more than 3,000 individual members in 70 countries.
About World Wide Wadio:
World Wide Wadio is an All-Star team of writers, directors, producers and sound designers -- assembled from all over the world and from all facets of the advertising, entertainment and Internet industries.
The company specializes in radio advertising, web content and sound design, created in a state-of-the-universe production facility in Hollywood.
See the new World Wide Wadio website: http://www.wadio.com
Media contact:
Richard Frank, Director of Business Development
World Wide Wadio
323-957-3399
http://www.wadio.com
###