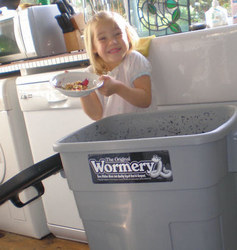 When I invented the Wormery 20 years ago... the bank just laughed at me.
(PRWEB) September 30, 2010
Rural Devon based Original Organics Ltd, inventors of the Wormery, grew their manufacturing and warehousing facility by 30% this week as they took over extra space adjacent to their existing unit.
Still supplying Wormeries online, through garden centres and via local authorities - the company has gone from strength to strength over the past few years - thanks to increasing interest in recycling and worm composting.
"Using a Wormery makes sense," says Clive Roberts, Managing Director who invented the Wormery and founded Original Organics Ltd over 20 years ago. "Dealing with your food waste output at home rather than having it collected or sending it to landfill is much kinder to the environment and you get 2 great products back out of it as a reward."
Wormeries deal with most of your kitchen waste and Clive thinks the rise in interest is in part due to increasing competition in the marketplace. "When I invented the Wormeries 20 years ago and tried to get a loan from the bank they just laughed at me. It's quite flattering that newer businesses are jumping on the bandwagon we started long ago, but overall it's helping to raise awareness out there. I wish I could find the bank manager who laughed at my idea and show him how much we've grown."
With Clive's business still expanding while the market for Wormeries has become more crowded, they must be doing something right. Liam Martin, who runs the company's online operations thinks the key is to do your best to be the best. "We have indeed seen a rise in competition over the past few years as it has been easier and cheaper to start your own business from home. But I think customers find our authority on Wormeries because we invented the first one and the fact we've been established for a while quite appealing. We put all this experience into our products and we also know just how important it is to give customers an excellent experience. We've invested tens of thousands in the last 18 months into improving our internal systems to make the ordering process as quick and efficient as possible."
As well as manufacturing and distributing Wormeries the company also manufactures a range of garden composters - in the heart of rural Devon. You can see the company's range of Wormeries online at http://www.Wormery.co.uk.
###