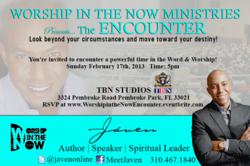 There is a fighter in us, a prayer warrior in us. There is a worshiper in us as well and we have to dig deep to get it out.
Hollywood, FL (PRWEB) February 08, 2013
Internationally acclaimed recording artist, speaker and actor, JAVEN, along with the Worship in the Now Ministries present The Encounter on February 17 & 24, 2013, 5:00pm at TBN Studios, 3324 Pembroke Road, Hollywood, FL 33021. With a theme of worship, this monthly event in the South Florida area features wisdom keys on everyday living, incredible worship by special guest artists, a time of fellowship, and prayer for specific needs. This is a special time of bringing families together during the evening when most churches have closed for the day.
At a time when many people are experiencing challenges beyond imagination, JAVEN teaches practical life lessons on better living and success while showing how it pertains to worship. "We live in a time where every decision matters. You have to be wise about your decisions right down to which mall you will shop at because anything can happen," says JAVEN.
Special guests like Grammy nominated artist DeLeon Sheffield team with JAVEN for a powerful time of worship singing inspirational songs as well as songs from his Worship in the Now Live CD set for release on May 21, 2013. Each month, The Encounter provides a platform for other artists to be introduced to the area and showcase their gift of song. This collaboration of corporate worship lends an impactful element to the life changing messages.
"There are many people suffering through hardships these days. Worship is a secret weapon that lies within. When people learn how to truly worship, it will bring healing to their situation without relying solely on sermons to get them through," says JAVEN.
For more information on the The Encounter and the Worship in the Now Ministries, visit the website, the Facebook Page, and Twitter @WorshipintheNow.
About Worship in the Now Ministries
Worship in the Now is a powerful ministry launched in 2011 that brings together pastors, leaders, and singers under one roof for a dynamic time of worship. This organization has toured across the country to cities like San Diego, Atlanta, Tampa and more. Worship in the Now launched a full time Ministry in the South Florida area in 2013 which houses bible study teachings, worship services, youth events, and more.
About JAVEN
JAVEN has the dynamic talents of Singer/Songwriter, Actor, Speaker, and Producer. With more than 10 years in the industry, he has won multiple awards for his outstanding work and gained notable recognition across the country and around the world. He makes frequent guest appearances on many networks including BET, TBN, FOX, NBC, GMC, and more. Once a full-time worship leader at a mega-church for many years, he has launched a ministry to bring hope and encouragement to those in need. http://www.javenonline.com.