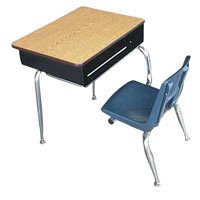 Every school has their own preference when it comes to school desks, so we try to present our customers with all of their options.
Dallas, TX (PRWEB) July 29, 2010
Worthington Direct, a supplier of school, church, early childhood, and office furniture for a multitude of institutional organizations have increased their product offering. The catalog and internet retailer adds their wholesale discounts to all furniture products, ranging from traditional school furniture to specialized classroom furniture. The quickly approaching back-to-school season has prompted Worthington Direct's web staff to increase their school furniture line, some upon request of their loyal customers.
School purchasers needing to replace outdated chalkboards with new dry erase whiteboards, requested a lower cost board that still had a durable surface for years of classroom use. Worthington Direct responded by adding an economical markerboard manufactured by Best-Rite that still features a durable porcelain steel surface, but with lower cost backing materials. This classroom board is backed by particleboard, instead of standard MDF substrate, but still provides a ½" thick porcelain steel markerboard surface with a 50 year guarantee.
"School desks are a classroom staple," according to the veteran sales staff at Worthington Direct, "every school has their own preference when it comes to school desks, so we try to present our customers with all of their options." Returning customers this year will notice that the classroom desk section has been expanded to include many more combination desks by Scholar Craft. Some varying features of these student desks include underseat bookracks, arm braces, or solid plastic tops with pencil groves.
With computers being used in almost every classroom, teachers are looking for new school desks that are computer ready. Paragon Incorporated provided Worthington Direct with just the solution by way of their Paravision semi-recessed computer workstations. Featuring semi-recessed positioning for flat panel computer monitors and a retractable keyboard tray for easy computing allows classroom computers to have a dedicated space for everyday classroom use. There's even a Paravision computer teacher's desk that has extra storage for files and personal effects.
Another result of increased technology in the classroom is the need for more projector mounts and TV mounts by schools. Peerless Mounts, makers of commercial mounts, have models to support all classroom media and has been beneficial to Worthington Direct's school technology customers. Articulating arm TV mounts are the latest addition to the school furniture website that allows students to comfortable view a classroom TV that can be set in a range of positions.
While Worthington Direct does not sell interactive whiteboards, they are finding that customers are looking for a smarter way to mount and display their new digital whiteboards. Mounts that come with the interactive boards are often an afterthought and Worthington Direct has introduced to their classroom furniture website the iTeach Mobile Interactive Whiteboard Stand by Best-Rite. The iTeach is mobile and height adjustable, and features a universal projector boom that fits all popular short throw classroom projectors.
Ask anyone at Worthington Direct, and they will tell you that the key to a successful return to school in the fall is to get your school furniture orders in now. Delays can occur as the back-to-school season approaches, especially on orders that have custom colors or are more of a specialty furniture product. However, Worthington Direct will be maintaining their furniture stock levels all summer to make sure that essential school furniture items are available when you call or click.
About Worthington Direct: After spending over 13 years supplying school, church, office and preschool furniture, Worthington Direct knows what is important - selection, service, price and timing. Visit http://www.worthingtondirect.com for more on their school furniture products.
Our goal is to make your purchasing job easier. With competitive pricing, knowledgeable sales associates, and products with quick, efficient shipping, Worthington Direct is committed to be your furniture resource. Schools and churches look to Worthington Direct for competitive pricing for school furniture, church furniture, preschool furniture, healthcare furniture, library furniture, desks, wholesale furniture, computer furniture, classroom furniture, whiteboards, office furniture, room dividers, storage cabinets, easels, display cases, cafeteria tables, activity tables, classroom desks, computer tables, stack chairs, lecterns, literature racks, office desks and stages among its large stock.
###