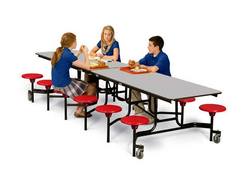 "There are certain classroom essentials that are requested year after year that we make every effort to have available in our furniture stock."
Dallas, TX (PRWEB) June 11, 2010
Worthington Direct (http://www.worthingtondirect.com), a supplier of school, church, early childhood, and specialty furniture and for over 13 years are braced to save precious budget dollars for schools while providing a fast turn-around time this summer. Summer is the time of year when many schools take stock of their furniture, including classroom desks and stack chairs, to determine if they need to replace old or wore pieces. Increased enrollment can also require schools to add additional classroom furniture to accommodate new students.
Worthington Direct has discounted prices available in the way of Web Specials that schools can take advantage of and save on large purchases. President and founder, Kevin Worthington, has been in the industry for over 30 years and understands what schools need during this time of year. "Price is always a factor for most schools, but timing can really determine whether a client is comfortable in putting their large orders in your hands," says Worthington. While not all furniture products ship quick, "there are certain classroom essentials that are requested year after year that we make every effort to have available in our furniture stock."
Popular school furniture items are stored year round in Worthington Direct's warehouse for immediate shipment. Virco stack chairs and Virco school desks in navy colors are available to ship out in just 24 hours after an order is placed. Other In-Stock school furniture items available are activity tables, open front desks, lift lid desks and jr. executive desks; all from Virco. "We are able to save on these items ordered in bulk, and then pass these savings right along to our customers, " says Worthington.
Other ways that Worthington Direct is saving school's time and money this year, is by working with manufacturer's that they trust to maintain fast lead-times and cutting prices to promote these industry leaders. Midwest Folding Products, makers of quality cafeteria tables, folding tables, and stages, have recently expanded their quick ship product line just in time for the summer season. Right now schools can save up to $200 on folding cafeteria tables in select colors, and they ship out in just 5 business days. Portable stages, seated risers, and stage accessories are also currently on sale and will ship in 5 days for any summer program or event.
OFM has always had fast lead-times, but these makers of commercial office and facility furniture have teamed together with Worthington Direct to cut prices on select items. Teacher desks with clean, modern design are currently on sale and will ship out in 3 business days. Package deals are also available on bundles of break room tables and select stack chairs to provide those hardworking teachers with a relaxing lounge.
While many of these promotions are geared toward schools, anyone can take advantage of Worthington Direct's wholesale prices and expedited lead-times. A whole selection of stack chairs and padded seating available from KFI are currently on sale and will ship out in 5 business days to any church, organization or business. Raymond Product's furniture dollies and furniture movers are ideal for any facility, and you guessed it, on sale and ship out in 3 days or less!
Ask anyone at Worthington Direct, and they will tell you that the key to a successful return to school in the fall is to get your classroom furniture orders in now. Delays can occur later in the season, especially on orders that have custom colors or are more of a specialty furniture product. However, Worthington Direct will be maintaining their furniture stock levels all summer to make sure that essential classroom furniture items are available when you call or click.
About Worthington Direct: After spending over 13 years supplying school, church, office and preschool furniture, Worthington Direct knows what is important - selection, service, price and timing.
Our goal is to make your purchasing job easier. With competitive pricing, knowledgeable sales associates, and products with quick, efficient shipping, Worthington Direct is committed to be your furniture resource. Schools and churches look to Worthington Direct for competitive pricing for school furniture, church furniture, preschool furniture, early childhood furniture, library furniture, desks, wholesale furniture, computer furniture, classroom furniture, chalkboards, office furniture, room dividers, storage cabinets, easels, display cases, cafeteria tables, activity tables, classroom desks, computer tables, desk chairs, lecterns, literature racks, office desks and risers among its large stock.
###