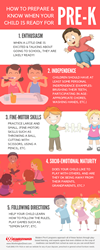 "We strive to understand our pre-school demographics and share helpful advice from experts in our community. We hope this piece will do just that!"
DALLAS (PRWEB) May 22, 2019
How do parents know when their child is ready for Pre-K? Worthington Direct asked the educational experts and compiled their findings into an informative article and infographic available to educators, parents, and anyone else interested in learning and sharing the information.
Crimson Allen, digital marketing coordinator for Worthington Direct said, "We strive to understand our pre-school demographics and share helpful advice from experts in our community. We hope this piece will do just that!"
Experts noted some of the signs to look for in a young child, including: Enthusiasm for learning, some level of independence, fine-motor skills, socio-emotional maturity, and the ability to follow directions.
Modern Pre-K programs approach all of these factors through play-based learning, and experts agree that even children on the cusp of readiness can benefit from school as soon as you can enroll them.
View the entire article and infographic here.
About Worthington Direct
At Worthington Direct, you will find over 20,000 quality furniture products for your school, church, daycare or office. Our goal is to make your purchasing job easier by giving you direct access to competitive prices on all types of commercial and institutional furniture products. Worthington Direct has been in business 20 years and is staffed with knowledgeable sales associates that average 10-20 plus years experience in the furniture supply industry.