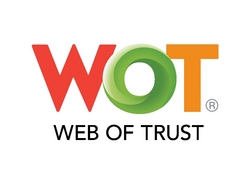 Four million Internet surfers worldwide trust WOT to protect them when they search and shop on the Internet. People need choices that fit their web surfing habits. With WOT's new one-click protection options, we provide personalized safe surfing
Helsinki, Finland (PRWEB) March 31, 2009
WOT provides four convenient one-click protection options that can be changed instantly depending on the situation:

"Light" protection suits experienced Web users
"Basic" protection guides the user by giving warnings
"Maximum Safety" stops dangerous Web sites from loading
"Parental Control" blocks access to Web sites with a poor child safety rating and no rating at all
"Four million Internet surfers worldwide trust WOT to protect them when they search and shop on the Internet. People need choices that fit their web surfing habits. With WOT's new one-click protection options, we provide personalized safe surfing," said CEO Esa Suurio.
Free Web safety tool provides protection against online threats
Web of Trust offers Internet users preventive protection against Web-based attacks, online scams, identify theft, and unreliable shopping sites. The WOT security add-on provides safety ratings to search results when using Google, Yahoo!, Digg and other popular sites, helping users protect their computers and personal information. Web site ratings are continuously updated by the user community and from numerous trusted sources, such as phishing site listings. The free Internet security add-on works with Internet Explorer and Firefox browsers and can be downloaded at http://www.mywot.com.
Supporting Facts of WOT

WOT has been downloaded by 4 million users
Information on 22 million websites
1 in every 20 websites is harmful
WOT users contribute by rating and commenting on websites
WOT also receives information from a large number of trusted sources, such as PhishTank, hpHosts, DNS-BH Malware Domain list and Artists Against 419.
Available in 14 languages, now also in Chinese and Japanese
Resources

Contacts
Esa Suurio, CEO, phone: +358 40 716 9301
Against Intuition, Inc. Italahdenkatu 27 A, 00210 Helsinki, Finland
###