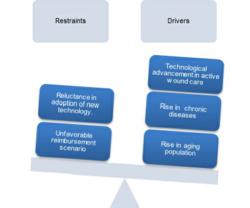 Major players in the Wound Care Market include Kinetic Concepts Inc(U.S.), Smith and Nephew(U.K.), Convatec Inc. (Luxembourg.), Molnlycke Healthcare (Sweden), and Systagenix (U.K)
(PRWEB) December 19, 2012
MarketsandMarkets conducted a study on the "Wound Care Market (Traditional Wound Care, Advanced Wound Care, Active Wound Care, Negative Pressure Wound Therapy & Other Therapy Devices) – Current Trends, Opportunities & Global Forecasts to 2016", which analyzed and studied the major market drivers, restraints, and opportunities in North America, Europe, Asia-Pacific, and Rest of the World.
Browse 178 market data tables spread across 395 pages and in-depth TOC of the "Wound Care Market"
http://www.marketsandmarkets.com/Market-Reports/wound-care-market-371.html
Early buyers will receive 10% customization on reports.
The study reports that the advanced and active wound care segments have experienced substantial growth in the past decade. The advanced wound care segment of this market consists of films, foams, hydrocolloids, hydrogels and collagen. Increase in the incidence rate of chronic diseases like hypertension and diabetes and aging population are the major factors driving the overall growth of the advanced and active wound care markets. The active wound care includes artificial skin and skin substitutes. In addition, therapy devices like Negative Pressure Wound Care Therapy (NPWT) have witnessed substantial growth in recent years owing to increasing incidence and prevalence of pressure, venous, and diabetic ulcers.
The global wound care market was valued at $15.7 billion in the year 2011, growing at a CAGR of 7.5% by the year 2016. The U.S. accounted for the largest share of the global wound care market in 2011, followed by Europe. However, emerging economies like India and China are predicted to display potential growth due to rise in disposable incomes, growing awareness of wound care, and rise in diabetic population.
The report also studies the growth strategies adopted by companies between January 2009 and April 2012. Players in this market have adopted various strategies to expand their global footprint and increase market share. New product developments, agreements, collaborations and expansions, followed by acquisition and mergers are some of the major strategies adopted by players to achieve growth. The research suggests that agreements and collaborations accounted for the largest share of 38.3% of all the strategies adopted by players to strengthen its geographic market for advanced wound care products. Major players in this segment includes Kinetic Concepts, Inc. (U.S.), Derma Sciences, Inc. (U.S.), Medline Industries, Inc. (U.S), Wound Management Technologies, Inc. (U.S.), 3M Company (U.S.), ConvaTec Healthcare B S.A.R.L (Luxembourg), Covidien, PLC (Ireland), Mölnlycke Health Care AB (Sweden), and Smith & Nephew, PLC (U.K.).
About MarketsandMarkets
MarketsandMarkets is a global market research and consulting company based in the U.S. We publish strategically analyzed market research reports and serve as a business intelligence partner to Fortune 500 companies across the world.
MarketsandMarkets also provides multi-client reports, company profiles, databases, and custom research services. They cover thirteen industry verticals, including advanced materials, automotives and transportation, banking and financial services, biotechnology, chemicals, consumer goods, energy and power, food and beverages, industrial automation, medical devices, pharmaceuticals, semiconductor and electronics, and telecommunications and IT.
We at MarketsandMarkets are inspired to help our clients grow by providing apt business insight with our huge market intelligence repository.To know more about us and our reports, please visit our website http://www.marketsandmarkets.com
Contact:
Mr. Rohan
North - Dominion Plaza,
17304 Preston Road,
Suite 800, Dallas, TX 75252
Tel: +1-888-6006-441
Email: sales (at) marketsandmarkets (dot) com
http://www.marketsandmarketsblog.com/