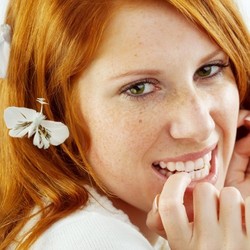 World of Warcraft players are notorious for their sense of humor
Santa Monica, CA (PRWEB) August 11, 2009
http://mymmoshop.com is happy to announce the creation and release of a series of World of Warcraft top 10 style videos with a humorous twist to be shown on their YouTube channel beginning today. These videos are based on the immensely popular massively multiplayer online role playing game, World of Warcraft, which is produced by Blizzard Entertainment.
The chosen star of these videos is Julia Nowak, a sexy European redhead who currently lives in Los Angeles. She is an aspiring actress and film student. This project should get her noticed quickly because WoW is the top rated massively multiplayer online role playing game with a membership of 12 million players. "World of Warcraft players are notorious for their sense of humor," says Hunter Crowell the media relations officer for MyMMOShop.com, "This video series combines babes, games and humor, so it is sure to be a hit."
MyMMOShop.com is a privately owned business held by a private equity firm. It has been in operation since 2003 and has offices in the United States, Australia, and Ireland. The company sells virtual currencies for use in online games like WoW Gold.
The first video is set to be released August 11th, 2009 and can be seen on MyMMOShop.com's YouTube channel located at YouTube.com/mymmoshop. All fans and players of World of Warcraft will want to check it out.
Anyone wishing to learn more about the service provided by MyMMOShop.com may visit their website. Those seeking the videos should mark August 11th on their calendars and add YouTube.com/mymmoshop to their list of favorites.
For additional information on the news that is the subject of this release, contact Hunter Crowell.
About:
MyMMOShop.com is a seller of virtual currency for massive multiplayer online games such as World of Warcraft Gold, Warhammer Online Gold, Age of Conan Gold, EverQuest Platinum, Lineage 2 Adena, Vanguard Saga of Heroes Gold, EverQuest II Platinum and Final Fantasy XI Gil. It has been in operation since 2003 and has operations in the U.S., Ireland, and Australia.
Contact:
Hunter Crowell
Media Relations
My MMO Inc.
233 Wilshire Blvd
Santa Monica CA 90401
424-354-0478
huntercrowell (at) mymmoinc.com
http://mymmoshop.com
###