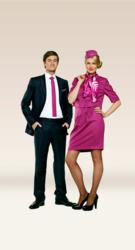 (PRWEB) October 17, 2012
WOW air will offer cheap flights to Iceland from its UK base at London Gatwick Airport up to eight times per week in the high season, starting in May.
London is an important year-round destination for the newest Icelandic airline. Icelanders love visiting the British capital and the Brits make up the single largest group of foreign tourists in Iceland. It is for that reason that WOW air also loves London.
WOW air has been offering cheap flights to Iceland from the UK since it began connecting Iceland and some of Europe's top destinations at the beginning of June. The company hasn't looked back since and is on course to keep developing and helping more British tourists to visit Iceland at the lowest possible price.
Two very simple goals guide WOW air, and they are to offer excellent customer service with a smile, and to consistently offer the cheapest flights to Iceland (and away again, of course).
As part of its constant evolution the Icelandic airline, WOW air recently moved its operations to London Gatwick from Stansted.
Flights to Reykjavik from London Gatwick are a positive development because the UK's second biggest airport is marginally closer to central London and has excellent transport links; but it is also a stone's throw from the fabulous south coast, its famous beaches, and the lovely city of Brighton. After a long love affair with London, Icelanders are also now falling for Brighton.
Flights to Reykjavik only take about three hours from London, which has made the Icelandic capital a popular destination for Londoners on long weekend breaks. You could spends weeks exploring Iceland, but a few days are enough to get a taste – and hopefully catch the 'Iceland bug'!
More information about visiting Iceland, flights to Iceland and about the Icelandic low-fares airline, WOW air, can be found on http://www.wowiceland.com.
About WOW air:
· WOW air was established in November 2011 by Icelandic serial entrepreneur Skuli Mogensen. Skuli has had a successful career building companies primarily in the telecom and technology sector in Iceland, Europe and North America. He was voted businessman of the year 2011 in Iceland.
· WOW air aims to always offer the cheapest flights to and from Iceland. Through our many partners in Iceland and Europe we aim to offer our customers a complete travel experience from start to finish.
· The WOW air fleet consists of Airbus A-320 aircrafts named WOW Force One and WOW Force Two.