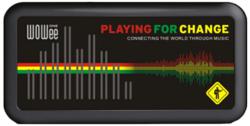 "We are so excited to be working with Playing For Change," said Magnus Hammick, WOWee ONE's managing director. "It's a great fit for us to support such an important global social cause."
Los Angeles, CA (PRWEB) March 13, 2012
Playing For Change and WOWee ONE have come together to connect the world and give hope through the sharing of music. WOWee ONE, producer of rechargeable, portable power bass speakers, has partnered with Playing For Change, a multimedia movement created to inspire, connect and bring peace to the world through music, to distribute a custom branded speaker, in which a portion of the proceeds will go to support Playing For Change Foundation's global music education programs.
Since its inception, founding members Mark Johnson and Whitney Kroenke, along with Raan Williams, have devoted themselves to Playing For Change, a global sensation that has united musicians and touched millions around the world. One of their primary focuses is filming and recording musicians live in their natural environment and then linking the performances all over the world in a global jam session. They never imagined that the music they discovered and the mission they shared would span 192 countries and be so passionately supported by over 150 million fans online, who want to help unite the human race through music.
"We are so excited to be working with Playing For Change," said Magnus Hammick, WOWee ONE's managing director. "It's a great fit for us to support such an important global social cause."
"We're thrilled to partner with WOWee ONE," added Mark Johnson. "It's incredible how these tiny speakers turn surfaces into sound. Our fans will love how they can now share their music with friends."
WOWee ONE will support this worthy cause by donating a portion of proceeds of the custom branded speakers to the Playing For Change Foundation, a separate non-profit organization that creates and supports music schools all over the world, particularly in developing countries. Its mission is to ensure that anyone with the desire to receive an education in music has the opportunity to do so, based on the fundamental idea that peace and change are possible through the universal language of music. The speakers can be purchased online at http://www.playingforchange.com/woweeone.
Funds to the foundation will help to finance building and supporting music schools in Ghana, Mali, Rwanda and Nepal where the foundation is already running successful music education programs. WOWee ONE has also donated speakers and projectors to the music schools to brighten and inspire the students.
"We are all are looking forward to making this union successful and to endorse through our high level networks this soulful and beautiful cause", added Freeny Yianni, WOWee ONE's Global Marketing Director.
The Playing For Change Band is a collection of world class musicians from around the world who tour in support of Playing For Change. Bringing together Grandpa Elliott from New Orleans with Titi Tsira, the Aretha Franklin of South Africa; along with the help of amazing musicians from around the globe, they become a tangible example of what happens when the world comes together with love and music. Together they inspire and transform audiences and create a world where we are going to make it as human race. The musical styles of soul, blues, reggae and African melodies join together and redefine world music.
Playing For Change has recently embarked on its expansive 2012 international tour with its most diverse line-up yet. The tour's goal is not only to bring musicians of all backgrounds together, but to inspire, educate, and empower them through the creation of music and art schools in developing communities.
The 2012 Playing For Change Band line-up features renowned and wildly diverse musicians from around the world including The Netherlands, Congo, South Africa, Zimbabwe and United States. They are making stops in major cities across the USA and Canada including Chicago, New York, Boston, Toronto, and Pittsburgh.
For complete tour schedule across the U.S. and Canada, visit Playing For Change Tour. Click here for Tour Press information and photos.
About Playing For Change
Playing For Change is a multimedia project and global sensation that has united musicians and touched millions around the world. Spanning 192 countries, it is passionately supported by over 150 million fans online who want to help unite the human race through music. Since its inception in 2004, Playing For Change has expanded into a global movement, establishing Playing For Change Records, creating a global band of musicians touring the planet, and launching a non-profit foundation (PFCF) that builds and connects music schools around the world. This is only the beginning...
Get socially involved by visiting http://PlayingForChange.com, Like on Facebook and Follow on Twitter.
About WOWee ONE
WOWee ONE is the home of cutting-edge audio-gel and green-laser technologies. Its innovative design group has introduced state-of-the-art products that unleash the power of sound and sight. Products include the WOWee ONE Classic, Slim and Pro portable power bass speakers and WOWee ONE Vue, the only HDMI micro laser projector on the market.
Sensitive to an ever-changing world, the WOWee ONE brand is introducing life-enhancing technology to a global market. The signature product, WOWee ONE Classic, has broken generational boundaries with fans pulling out their earphones and plugging into their WOWee ONE speakers. Rejuvenating social interaction, activity and communication is its main aim with speakers that turn surfaces into sound, using unique and patented technology called Gel Audio, which sends the low frequency response to the surface it is placed on.
Launched in 2009, WOWee ONE products can be purchased in more the 120 countries. Their signature products are attracting media attention for their cutting edge technology and commitment to creating a more socially conscious world through social enterprise. Find out more about WOWee ONE and its great lifestyle products at http://www.WOWeeONE.com, Like on Facebook and Follow on Twitter.
# # #
Images and logos available upon request.
PLAYING FOR CHANGE
Raan Williams | raan(at)playingforchange(dot)com | 310.613.0000
WOWee ONE
Spence Bovee, Marketing, North America | spence(at)woweeone(dot)com | 310.722.9191
Freeny Yianni, Global Marketing Director | freeny(at)woweeone(dot)com | (0) 7967 314 760