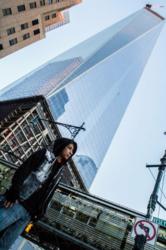 Many of my artists own their own labels and studios, making the Wolfpack Music Group a conglomerate of independent companies and artists. Those who run their own companies, make great leaders in a group like mine," said Producer Robin Blesch.
(PRWEB) May 14, 2013
The Wolfpack Music Group, an international independent underground studios system of artists for social positivity through pop-art, created by Producer Robin Blesch, launched pre-sales of their first collectively produced socially conscious album, The Unstoppable Undertaking, with a mini pre-release tour trekking through Washington D.C. and five states across the east coast. During the multi-state trek, the Wolfpack officially announced the beginning of disc pre-sales, gave sneak peak performances at live shows, interviewed on WLVS Radio in DC, and appeared on the Eddie Kayne Radio Show streaming live in 97 countries. Also, while on the trip, Ms. Blesch filmed at several iconic locations for the first music video single, "What's Up With The Love," by DDI TheRebel from their highly anticipated, non-explicit, Fusion album. The group plans the release party for, "The Unstoppable Undertaking," to be a community event and drive for the homeless on Sept. 14th, and plans to release the music video on September 11, 2013; "In memory of Our Nation's tragedy, the tragedy that sparked one of the greatest tragedies for any nation, in any generation... WAR," said Ms. Blesch, an Anthropology Major at the University of Texas.
VIEW PHOTOS FROM THE ADVENTURE HERE
To reserve your copy of The Unstoppable Undertaking at wholesale price, click here.
The Unstoppable Undertaking will include 20-25 songs created with socially neutral or positive lyrical messages on a variety of topics: Rap, Hip Hop, Electronic, Trip Hop, and other alternative style fusion tracks. "It includes rap songs, but is not just your standard explicit rap album," said DDI. While on the east coast the Wolfpack representatives took time from their planned agenda to visit a private studio with Producer RichieRich to work on a new track for the album, "Until I See That Day," with artists OSO-LIVE and Singer Michelle Lavonne, and here are plans to include it on the album.
A large party is planned for the album release on September 14, 2013. Blesch is planning a pool party, BBQ, live concert paired with a clothing and item drive for Austin's Homeless population. "I like to show how giving back to the community is so easy, in everything we already do, so people who want free drinks at my party will have to trade me something for the homeless; nothing in this world is free," said Ms. Blesch. Unlike Blesch's past private entertainment industry-only parties, also homeless drives, which have drawn over 400 industry folks from across Texas more than once, the CD release party for The Unstoppable Undertaking will be open to the general public. Blesch also plans to let more than just artists on the album perform at the party, making it an industry and community event. However, even though the party will be open to the general public without a ticket price, it's a private party with a guest-list. Sign up for more details, and get on the guest-list here.
View a video from a past private party Producer Robin Blesch threw for The Texas Production Incentives here.
The Pre-sale announcement was officially made during an on-air interview with Robin Blesch and Eddie Kayne before the trip, and again during an on-air interview before DDI's first performance at a block party at WLVS Radio in Washington D.C., where he opened for SODMG artist, Shawty Boy. Unreleased WPMG songs, from the album and mixtape that the group plans to release simultaneously on Sept. 14th, were heard for the first time over the radio in The Nation's Capital, while also streaming live on the Eddie Kayne Radio Show, with listeners in 97 countries worldwide.
DDI started off the live shows with a different approach than other performers, by first giving a speech about, "Being Yourself," and not letting others knock you down damaging your self-esteem. DDI said the highlight of the trip was, "After I performed three thought provoking tracks making sure all ears were on me, and all eyes glued to the stage; I exploded into, "Aliens In The V.I.P (Wolfpack Remix)," one of our most energetic fire tracks. It's about our dominance and take over in music world, and it was kind of epic to finish only seconds before everyone at the event and I got to watch Lil' Wayne open up for the Mayweather vs. Guerrero fight!"
Also during the trip, Producer Robin Blesch, wrapped principle photography on the music video she produced, directed and personally shot in four different cities for, "What's Up With The Love." Some of the Scenes for the video were shot in Houston and Austin before the trip, and other planned scenes were shot in New York and Washington DC in iconic locations.
"In the video, I play a foreign entity not from our world learning and discovering things about us; some are positive, but so many are negative," said DDI.
"He is a watcher type entity that feels the love and pain in our world, much like the "Element," played by Milla Jovovich, in "The Fifth Element." Remember when she is learning English, and discovers "WAR." The difference here is that DDI's character cannot be perceived by humans, cannot interfere, and is not sent to help... he is just discovering," said Blesch.
The iconic locations that were shot in NYC for the video included: Ground Zero and One World Trade Center construction site, Time Square, and the New York City Skyline. In DC the sites included: The White House, The United States Treasury, Arlington National Cemetery, The Tomb of the Unknown Soldier, The Vietnam Veterans Memorial Wall, and The Memorial Grave for the Space Shuttle Challenger. Ms. Blesch also got permission to film at the Pentagon, by the memorial created to honor those who were lost in the tragedy.
To view another video directed by Robin Blesch click here.
"There is a positive message in this song, and I hope the iconic imagery drives the point home to everyone in the world the song reaches. The world needs more love and less hate! We all should do whatever we can to make the world we live in a better place. Artists have the power to impact others, and the Wolfpack hopes to impact the world in a positive way, not just make money selling anything," said Ms. Blesch.
@Producer_Robin is currently a Sr. at The University of Texas with a major in Anthropology, the study of humans. Her minor is Middle Eastern Studies with a focus in Archaeology. She reports that she will be leaving the country in only days for Central America, where she will be editing the video while managing her virtual music project from a tent in Belize this summer with the help of her team leaders DDI and DINO. While in Belize, she will be earning her last Anthropology credits for her BA, digging on Mayan Ruins. She confirms that she will be enrolled again at UT next semester studying Hebrew with a goal to achieve her BA from UT in 2014, and brags a current Sr. GPA of 3.64. She plans to send video updates from her time in Central America to her social media, and encourages people to follow her on the adventure.
Robin Blesch has been an independent film and media producer in Austin since 2005. She has produced two feature films, a slew of short films, over 50 commercials, photographed hundreds of people, hosted her own live show for a period of time, and threw several large networking parties for the Texas Entertainment Industry with the Wolfpack Film Group while working on her degree at UT. She recently gained investment from the Executive Producer of the documentary, "High: The True Tale of American Marijuana," to make socially conscious music, and Mr. Schubring is backing the positive movement. Therefore, outside of school, she works full time producing the Wolfpack Music Group. "Think of it kind of like a brand new SwishaHouse type group, that only produces socially conscious music together, and does what they want on their own," said Blesch.
The Wolfpack Music Group is now more than 50 artists strong, and still growing, with artists in several countries, states, and cities. DDI said, "Drake got Grammy nominations without even releasing an album, and made music history with Young Money, but the group I'm a part of may be the only group of independents to break onto the scene already international with so many members we could throw our own football scrimmage against each other, and watch from the bleachers… if we could get the whole team in one city. SWAG!"
The Wolfpack Music Group will only put out socially conscious music: Rap, Hip Hop, R&B, Electronic, Pop, Fusion, and Dance. However, Wolfpack artists are free to make any type of music they want outside of the group content. They produce together on a virtually system in a private cloud managed by Ms. Blesch, which only signed Wolfpack members have access to. "All contracts for the group are non-exclusive production agreements, therefore Wolfpack artists can own a label, be an independent, work with other independents, or be signed to another label. Many of my artists own their own labels and studios, making the Wolfpack a conglomerate of independent companies and artists. Those who run their own companies, make great leaders in a group like mine," said Blesch.
Ms. Blesch adds, "The Wolfpack will work together among its members in an attempt get a distribution deal in place for The Unstoppable Undertaking before our official release date. However, even if we miss that goal, there is nothing that can stand in our way of reaching our overall goals working together like a pack of hungry wolves! We all have talent, resources, tools, and connections; teaming up only multiplies our chances of topping the charts one day! The Wolfpack is the Unstoppable Undertaking! This is only the beginning, just wait until the tiny snowball I have started really begins to avalanche. We are about to drop this album project, but we have three more in production in our cloud. I plan to drop those three together when complete… and there will be more where that came from."
DDI is one of the leaders in the Wolfpack Music Group, along with Dino, CEO of Mysterious Entertainment. DDI has been a Wolfpack artists for a little over a year, and during that time, with the help of Blesch and other supporters, he's worked his way from recording in a tiny closet in an Austin housing project, to having his own commercial studio space and label. He is now the owner of Weird Kind Entertainment & Alien Time Machine (ATM) recording studio, which is located in the commercial building next to Wolfpack Studios, owned by Blesch, in Austin, TX. DDI has a roster of artists who work under him, some of which are also signed with the Wolfpack Music Group.
DDI is an artists who also wants to help Blesch create change in society, highlighting and exploiting the worlds flaws that could possibly change through music and media, and what he calls "Off-World Art." He makes Electronic, Trip-Hop, Alt. Rock, Alt. Hip Hop, and rap on a variety of topics including cancer awareness, homicide and suicide prevention. With only a year behind his company, collaborations have been done with two time platinum producers, and also with Sony and Def Jam artists. Weird Kind Entertainment's motto is "The Fight Against Bullies Through the Form of Sound," and they plan to continue that. They call themselves weirdos, and want all the weirdos in the world to be proud of their oddities. In a city like Austin with a slogan of "Keep Austin Weird" WeirdKind fits right in with their slogan "Power to the Weirdos!"
F.A.M.E, who came and hyped at some shows, is signed to WierdKind. He will be the first "Wolfpack Contributing Member," meaning he will do only five tracks with the group to fulfill his contract, instead of signing to do tracks with the group for a period of time. Blesch has opened up these type of agreements for name features and creative negotiations, but states that contributing members will not gain access to the virtual production cloud.
Wolfpack leader, DINO the CEO of Mysterious Entertainment, The Major Indie Label, has also been extremely active in the music industry in 2013, since signing with Wolfpack. Mysterious has been actively signing talented Texas artists, making music, and opening for seasoned performers statewide. They performed with Lil Scrappy for the "Live and Hip Hop Tour" in San Antonio, Lil Flip in Killeen, Chalie Boy in Austin to name a few, and a showcased feature for the Atlantic Records/Remy Martin Rap Explosion and Model Call," in Dallas. Mysterious also teamed up with Swishahouse to host the labels mixtape, Southern Riot, which has major promotion through Starlight Music Group and Atlantic Record's P.U.S.H. The entire label's roster is scheduled to perform at the Juneteenth Celebration in Austin June 2013. They also have shows with Big Chief in Dallas, and ZRO in San Antonio this summer. The Fall of 2013 will bring the debut album of the label's 1st lady Mizz 901, who's also signed to the Wolfpack Music Group. Mysterious is represented on The Unstoppable Undertaking, and will perform at the CD release party on September 14th.
Ironically, Obama took his, "Middle Class Jobs & Opportunity Tour," to Austin, Texas focusing on jobs, skills, and opportunity, as the three Wolfpack Music Group representatives from The Lone Star State traveled across the country to The Nation's Capital. The group plans to try to help create jobs for others around them, by allowing anyone to become one of their product wholesalers. Ms. Blesch said, "I know the job market is hard, and sometimes people turn to crime to make money for their families, but I plan to allow anyone who wants to sell our products wholesale/retail to earn extra money: stores, single mothers who need extra money, men who want something legal to hustle etc. Non-artists can join our positive movement, and profit from it as well!" The group will allow people to start with small orders, and only need to contact Ms. Blesch to register.
"President Obama ran on a platform of change, and most people look at other people, politicians, or the government to change the world around them. However, If you really want the world you live in to be better or different, you have to get up and do something about it. You have to work to change it yourself, and encourage others to do the same! Ask not what everyone else in the world is doing, but what you can do for the rest of the world! The greatest commandment is love, so we should all start there," said Blesch
So, world... we ask,"What's Up With the Love?!
Get your copy of The Unstoppable Undertaking, at wholesale price, and support the Wolfpack Music Group's Positive Movement by signing up here before the release date.
For more information about the Wolfpack Music Group, click here.
For more information about the Wolfpack Underground Studio System, click here.
Artists who wish to submit to be reviewed and considered for inclusion in the Wolfpack Music Group should submit here.
#WolfpackApocalypse #ChangeTheWorldForTheBetter #WolfpackGlobal #\m/\m/73