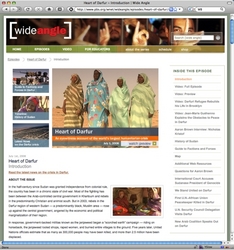 The wonderful thing about this solution is that it's as easy to use as the popular WordPress blogging software
New York, NY (PRWEB) July 22, 2009
WNET.ORG, the public media provider in New York, and Tierra Innovation, a leading New York City digital firm, have developed a new content management system (CMS) that enables WNET.ORG - or any other non-profit media organization - to create high-quality websites more easily, more rapidly and more economically than ever before. The new CMS, built on the user-friendly WordPress Multi-User (WPMU) platform, provides an elegant "plug and play" solution that streamlines the process of designing and launching websites, freeing up critical resources and enhancing the institution's ability to reach public media consumers with digital content.
"With the web playing an increasingly prominent role in public media, we found ourselves looking for a way to launch websites in a more efficient and cost-effective way," said Dan Goldman, Executive Director of Corporate Finance at WNET.ORG, the parent company of public broadcasters THIRTEEN and WLIW21. "With our limited resources, we realized we needed a universal CMS that would enable us to avoid building each site from scratch. Working with Tierra Innovation and the WordPress platform, we developed a solution that has dramatically increased our publishing efficiency and flexibility while considerably lowering our relative web production costs."
"Our challenge was to migrate years of web content into a single, open-source system that could support WNET.ORG's diverse initiatives at a low cost and with low technical hurdles for its content producers," said Jamie Trowbridge, President of Tierra Innovation. "We collaborated with WNET.ORG on both design and technology to create unified, extensible website templates and a new publishing system based on the WordPress platform. Since implementing the new CMS, WNET.ORG has launched dozens of websites that required significantly less production time and resources but delivered more web traffic than previous WNET.ORG sites."
"The work that WNET.ORG and Tierra have done with WordPress is truly impressive and showcases the power, flexibility and potential of the WordPress platform," said Raanan Bar-Cohen, Vice President, Automattic, Inc. / WordPress. "By building a CMS on top of WordPress, Tierra and WNET.ORG successfully launched numerous high-traffic sites that provide a great user experience as well as editorial and creative flexibility."
"The wonderful thing about this solution is that it's as easy to use as the popular WordPress blogging software," said Goldman. "That ease of use allows people from all over our company - broadcast producers, for example - to contribute content on a daily basis without specialized technical knowledge. And it's flexible enough to serve the entire range of websites we manage - from sites that accompany broadcast series to corporate information pages."
Since its implementation, the new CMS has enabled WNET.ORG to increase its capacity to launch and maintain websites by as much as 700%. The company has also reduced website launch lead times dramatically - from 6-12 weeks to 1-3 weeks. Since bringing the new CMS online, site traffic has increased by an average of over 100%. The CMS also provides for increased audience engagement through social media features that allow users to dialogue and build communities.
WNET.ORG will make its customized, open-source CMS publicly available and invites all non-profit arts, media and cultural organizations with similar online publishing needs to adopt and further develop their own content delivery networks.
"We believe that this newly created and proven CMS can contribute to advancing broader institutional strategies of non-profits, and help enable media companies, in particular, to maintain a competitive edge with respect to the commercial counterparts," said Goldman. "This investment is paying off for us and we'd be delighted to share it with other organizations with similar missions and challenges."
WNET.ORG and Tierra have published a white paper detailing their experience implementing the CMS, which is available for download at: WordPress Publisher's blog and at Tierra Innovation's blog.
About WNET.ORG
New York public media company WNET.ORG is a pioneering provider of television and web content. The parent of THIRTEEN, WLIW21 and Creative News Group, WNET.ORG brings such acclaimed broadcast series and websites as Worldfocus, Nature, Great Performances, American Masters, Charlie Rose, Wide Angle, Secrets of the Dead, Religion & Ethics Newsweekly, Visions, Consuelo Mack WealthTrack, Wild Chronicles, Miffy and Friends, and Cyberchase to national and international audiences. Through its wide range of channels and platforms, WNET.ORG serves the entire New York City metro area with unique local productions, broadcasts and innovative educational and cultural projects. In all that it does, WNET.ORG pursues a single, overarching goal - to create media experiences of lasting significance for New York, America and the world. For more information, visit http://www.wnet.org.
About Tierra Innovation
Tierra Innovation designs and builds digital products that are engaging, easy to use and cost-effective. Tierra helps clients identify their particular needs, develop digital strategies and implement customized solutions that scale with their vision and growth. Tierra offers a full range of services from designing and developing websites, publishing software and mobile applications to conducting user experience research and executing marketing initiatives. Clients include: CBS Corporation, The Council on Foreign Relations, The CW Network, Napster, NFL Network, The Poetry Foundation, Turner Sports Interactive, Warner Bros. and WNET.ORG (PBS), among others. Founded in 2002, Tierra Innovation is privately held and is based in New York City. Visit http://www.Tierra-Innovation.com for more information.
# # #