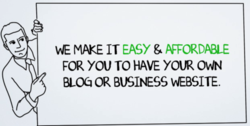 My Wordpress site was up and I was writing blog posts in 72 hours! - Mark
(PRWEB) July 25, 2012
With this brand new service launch, WP Web Starter hope to reach more customers and share the power of blogging with Wordpress to all who wish to share their content online via the internet.
WP Web Starter have, for some time now, offered Wordpress install packages for personal bloggers and businesses in the greater USA and worldwide. WP Web Starter's team have been very busy over the last month, working on this new product, so they can launch a zero hassle Wordpress installation service, to include a professionally designed theme and configuration of a custom domain.
WP WebStarter strive to keep providing the best service they can, to ensure the internet grows with a wealth of helpful and insightful information. WP Web Starter thoroughly believe that this type of information comes from the strong blogging community on the internet, a large quantity of which originates on WordPress websites and personal WordPress blogs.
Their WordPress install packages include a host of great features and options, which are perfect for all industries; not to mention WP Web Starter are here to answer any questions when required.
Basic WordPress Install Package Features:

WordPress Installation
1 Premium Theme Installed
Logo Insertion
72 Hour Delivery
*Hosting via Host Gator required to qualify for package.
Signup now for their WordPress installation.
This is a very unique opportunity to get a 100% affordable website up and running within 72 hours; anyone could use these packages for the start of a profitable personal blog, or business website.
WP Web Starter also have a 'Personal Website Package' and 'Business Website Package' - these are their advanced packages which include more features but still use the powerful WordPress blogging platform.
Get online with a personal WordPress blog or business website, simply head over to Wp Web Starter's website using the website address and links below and sign up to a Wordpress website package.
The WP Web Starter team are friendly and easy to deal with and at all times they will answer any questions quickly. Any pre-purchase questions that need to be addressed, can be found in their FAQ's section on their website which accurately answers many questions, including how they protect their customers private details and purchasing information during the signup process.
WP Web Starter's services are the easiest and most afforable way to get a Wordpress blog or business website done right and online in 72 hours.