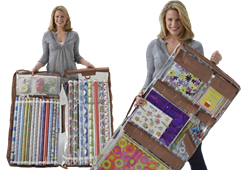 Wrapitgiftbag.com Announces Participation at Upcoming New York National Stationery Show
New York (PRWEB) May 15, 2014
Wrapitgiftbag.com is an online website that deals with the manufacturing and selling of "Wrap iT", the next generation of gift wrap organizers. The company has announced that it will display its products for gift wrap organizing at the upcoming National Stationery Show, scheduled to be held in New York City beginning next week.
Check out this incredible product to organize your wrapping paper by logging on to http://wrapitgiftbag.com.
The New York National Stationery Show is scheduled to be held May 18, 2014 through May 21, 2014 at the Jacob J Javits Center, New York City. People looking for gift wrap storage solutions will certainly find this product unique and very handy.
Adam Levine, designer and founder of the company Wrap iT Inc. that manufactures these incredible gift wrap storage organizers, stated, "We all want the gifts we give to look beautiful clean and crisp every time, but it's nearly impossible when your wrapping papers are not stored in an organized manner! But not anymore, Discover Wrap it - The World's Greatest Gift Wrap Organizer! We are displaying in booth #2854 at the upcoming National Stationery Show in New York City to promote this product."
"Wrap iT" makes it simple and easy to store one's gift wrapping collection away by just hanging it in the closet or sliding it under a bed. It can house an incredible amount of gift wrapping items or craft supplies in its remarkable front pockets. It can safely protect anything related to wrapping a present such as greeting cards, scissors, tissue papers, bows, glue sticks, rulers, markers, tapes and more. Customers can also receive a 20% discount on their first order.
Levine also went on to say ,"Wrap iT can make your life a little easier. It's the world's most incredible solution to make gift wrapping fun, quick, and easy for the whole family. We're hoping you'll use it to have more fun with your family. And as a cool bonus, if you use less wrapping paper, you help pollute the world a little less."
Those who want a simple solution for gift wrap storage can check out two different sized Wrap iT's on the website Wrapitgiftbag.com.
About Wrapitgiftbag.com
Wrapitgiftbag.com is an online website that makes and sells "Wrap iT", the industry leader in storage capacity when it comes to gift wrap organizers. Log on to http://wrapitgiftbag.com for more info and visit them at the forthcoming National Stationery Show at booth #2854.