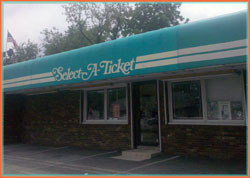 The world will be watching and the most dedicated fans of professional wrestling will be there to experience the theatrics, drama and excitement of Wrestlemania firsthand
Riverdale, New Jersey (PRWEB) February 22, 2013
World Wrestling Entertainment's grandest stage of them all touches down April 7, 2013, that is when Wrestlemania XXIX will be held at East Rutherford, N.J.'s MetLife Stadium. Millions of viewers worldwide will witness the 29th Showcase of the Immortals live on pay-per-view, but for the most passionate fans, New Jersey based ticket broker Select-A-Ticket is pleased to announce Wrestlemania tickets are available now via SelectATicket.com.
Wrestlemania has annually featured some of the most memorable matches in pro wrestling history. In 2012, John Cena went head-to-head with an icon who became something bigger and more electrifying than professional wrestling itself: multi-time WWE Champion The Rock. The match simply billed as "Once in a Lifetime" ended with The Rock's hand raised before pandemonium in his hometown of Miami, FL. and a stunned Cena.
On April 7, lightning will be captured in a bottle again. This year, The Rock enters Wrestlemania holding the WWE Championship for the first time in more than a decade. Cena himself awaits redemption's call after surviving 29 other WWE superstars to win the annual Royal Rumble for the second time and punch his ticket to Wrestlemania's main event.
Another featured match – perhaps one more meaningful even than a WWE Championship – lies in question this time around. It is simply called "The Streak."
In total, 17 men have faced The Undertaker at Wrestlemania over the past 20 years. All 17 have fallen before the Dead Man. The Undertaker's brother, Kane, has come to vanquish him twice. WWE Hall of Famer Shawn Michaels twice fought valiantly - the second time, The Phenom ended Michaels' storied career. Only Triple H has faced The Undertaker three times. Last year, The Game extended the legend to both men's physical brinks during only the second Hell in a Cell match in Wrestlemania history.
Will The Undertaker rise again and meet a 21st challenge to wrestling's most incredible undefeated legacy? Who will stand before him? Questions surrounding his health only add to the intrigue if he will be able to extend The Streak.
Since 1985, iconic professional wrestling moments have been born before millions of fans' eyes at Wrestlemania, dating all the way back to the immortal Hulk Hogan and Mr. T facing off with "Rowdy" Roddy Piper and "Mr. Wonderful" Paul Orndorff in the main event of the inaugural Wrestlemania at New York City's fabled Madison Square Garden. Wrestlemania III set a then-indoor attendance record when 93,137 fans crowded Detroit's Pontiac Silverdome to witness Hogan's face-off with the iconic Andre the Giant. At Wrestlemania 24 in Orlando, FL, "The Nature Boy" Ric Flair ended arguably the greatest career in wrestling's history against Michaels. Two years later, Michaels wrestled his final match.
On April 7, WWE will re-write history again.
"The world will be watching and the most dedicated fans of professional wrestling will be there to experience the theatrics, drama and excitement of Wrestlemania firsthand," says Mark Gibbons of Select-A-Ticket.
About SelectATicket.com
Select-A-Ticket has been in business over 34 years as an experienced, trusted and secure ticket broker.
Select-A-Ticket sells tickets to Broadway, Concerts, Sports, and Family Events and is a proud member of the National Association of Ticket Brokers (NATB).
For a complete list of available tickets, go to http://www.SelectATicket.com or call 800-735-3288 to order tickets by phone.