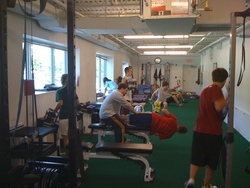 After just one preaseason of following Brian's program my son has already grown in confidence and is wrestling at a higher level.
Concord, NH (PRWEB) December 1, 2009
Wrestlers are looking for an edge like anyone else and need to find something besides camps to get it. Brian Silfies CSCS, USAW is dedicating himself to helping wrestlers who are dedicated to becoming better. Strength and Conditioning for Wrestling is something that needs to improve the wrestlers conditioning for his sport, not powerlifting or bodybuilding or even like other athletes, wrestling is unique and so should the conditioning program be unique. Wrestlerstrengthonline is a new site for wrestlers to find the best ways to improve conditioning for wrestling.
Brian Silfies has a passion for wrestling since growing up in Reading, PA. where the sport is very popular he has followed the sport and participated since the 4th grade and continued through college and is still involved by coaching at a local MMA school and volunteer high school coach. Brian also has a passion for strength and conditioning and has been a professional strength and conditioning coach and personal trainer for over 15 years now.
Brian has spent a lot of time learning from the best people in the world and learning from experience with his athletes and is always looking to improve on his already proven formula for building better athletes. Wrestlerstrengthonline is a way Brian can reach more athletes and help more people who want to improve there conditioning for wrestling and fighting or if somebody just wants to have a body like these guys and is willing to work that hard.
Brian Silfies founded WrestlerStrengthOnline in 2009 From Concord, NH and will continue to grow it and is planning on having some special guest writing and speaking on his site and at his facility.
Go to http://www.wrestlerstrengthonline.com now to get an edge on your competition and look for great interviews and books to come soon! Please let me know who you would like to hear from.
###