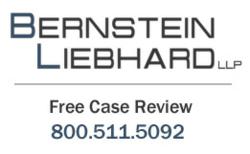 Unfortunately, we are all too familiar with the complications detailed in this report, as they echo what we have heard from our own clients who have filed claimed involving Wright hip replacements and other metal-on-metal hips.
New York, NY (PRWEB) June 12, 2013
As Wright hip lawsuit claims continue to mount in courts throughout the country, Bernstein Liebhard LLP notes a new report detailing the growing litigation surrounding Wright hip replacements, as well as other metal-on-metal hip implants. According to an article published by the Daytona Beach News-Journal on June 11th, Wright Medical Technologies, DePuy Orthopaedics and Smith & Nephew are just some of the metal-on-metal hip replacement manufacturers named in a growing number of lawsuits that claim such devices shed dangerous amounts of metal debris, leading to tissue and bone loss, as well as premature device failure. Among other things, a Wright hip replacement recipient interviewed for the report discussed how she was forced to undergo two revision surgeries after she began hearing squeaking from her hip, and tested positive for high levels of metal ions in her blood.*
"Unfortunately, we are all too familiar with the complications detailed in this report, as they echo what we have heard from our own clients who have filed claimed involving Wright hip replacements and other metal-on-metal hips," says Bernstein Liebhard LLP, a nationwide law firm representing the victims of defective drugs and medical devices. The Firm is actively filing Wright hip lawsuits, and continues to offer free legal evaluations to individuals who suffered serious complications, allegedly due to Wright Conserve and Profemur hip replacements.
Wright Hip Replacement Lawsuits
As the Daytona Beach News-Journal points out, metal-on-metal hip replacements were allowed to come to market under a U.S. Food & Drug Administration (FDA) program that does not require human testing. In January, the FDA proposed a new rule that, if adopted, would require the manufacturers of metal-on-metal hip implants already on the market to conduct human safety studies of their products if they intend to continue selling them. Manufacturers seeking to bring a new metal hip to market would also be required to conduct clinical trials before they could receive FDA approval.**
Dozens of Wright hip lawsuits involving the Wright Conserve Total Hip Implant System, Conserve Total A-Class Advanced Metal Hip Implant System, and the Conserve Resurfacing System have been consolidated in a multidistrict litigation now underway in U.S. District Court, Northern District of Georgia. (In re: Wright Medical Technology, Inc., Conserve Hip Implant Products Liability Litigation, MDL No. 2329) In a regulatory filing dated April 30th, Wright Medical Group reported that additional Conserve hip replacement lawsuits had been filed in state court in California, a number of which have been consolidated for pretrial handling pursuant to procedures of California State Judicial Counsel Coordinated Proceedings. All of these claims allege the Conserve's metal-on-metal design resulted in the accumulation of excessive metal ions in recipients, many of whom were forced to undergo revision surgery.***
Wright Medical Group also reported in its April regulatory filing that it had been named in a growing number of claims involving Wright Profemur hip replacements. Wright Medical also warned in the filing that last year's Stryker hip recall for Rejuvenate and ABG II hip stems could potentially affect sales of its Profemur modular-neck stems, due to an increased industry focus on the safety of cobalt chrome modular neck products, such as the Profemur hips.***
Court records indicate that On March 20th, a Joint Notice of Settlement was filed for a Wright Profemur hip replacement claim pending in the U.S. District Court, Northern District of California. Had the case not settled before trial, court records indicate it would have been the nation's first trial involving a Wright Profemur lawsuit. (Tucker, et ux. v. Wright Medical Technology, Inc., et al., No. 4:11-cv-03086)
Individuals who experienced complications related to Wright hip replacements or
other metal-on-metal hips may be entitled to compensation for medical bills, lost wages, pain and suffering and other damages. To learn more about Wright hip lawsuits, please visit Bernstein Liebhard LLP's website, or call one of the Firm's attorneys today for a free case review at 800-511-5092.
*http://www.news-journalonline.com/article/20130611/NEWS/306109981?p=3&tc=pg&tc=ar
**fda.gov/MedicalDevices/ProductsandMedicalProcedures/ImplantsandProsthetics/MetalonMetalHipImplants/default.htm
***http://phx.corporate-ir.net/phoenix.zhtml?c=129751&p=irol-SECText&TEXT=aHR0cDovL2FwaS50ZW5rd2l6YXJkLmNvbS9maWxpbmcueG1sP2lwYWdlPTg4OTA3MTEmRFNFUT0wJlNFUT0wJlNRREVTQz1TRUNUSU9OX0VOVElSRSZzdWJzaWQ9NTc%3d
About Bernstein Liebhard LLP
Bernstein Liebhard LLP is a New York-based law firm exclusively representing injured persons in complex individual and class action lawsuits nationwide since 1993, including those who have been harmed by dangerous drugs, defective medical devices and consumer products. The firm has been named by The National Law Journal to the "Plaintiffs' Hot List," recognizing the top plaintiffs' firms in the country, for the past 10 consecutive years.
Bernstein Liebhard LLP
10 East 40th Street
New York, New York 10016
800-511-5092
ATTORNEY ADVERTISING. © 2013 Bernstein Liebhard LLP. The law firm responsible for this advertisement is Bernstein Liebhard LLP, 10 East 40th Street, New York, New York 10016, (212) 779-1414. Prior results do not guarantee or predict a similar outcome with respect to any future matter.
###
Contact Information:
Felecia L. Stern, Esq.
Bernstein Liebhard LLP
info(at)consumerinjurylawyers(dot)com
http://www.consumerinjurylawyers.com