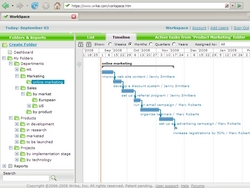 Productivity is one of the core values in our company. A good collaboration and project management solution is essential for getting things done in a team, especially in a distributed team
San Jose, Calif (Vocus) June 10, 2010
Like many companies with teams across the globe, Unison Technologies faced the problem of making sure projects stayed on track and were completed as efficiently as possible. The company turned to Wrike.com's leading on-demand, online project management and collaboration software, fueling performance and collaboration for every member on Unison's team, which is distributed across two continents. As a result, Unison reports a productivity boost in the collaborative work.
Unison Technologies provides unified communications solutions to help companies become more productive with their communications. Yet it was hard for them to find the project management software that fit into their corporate work style. Team members had to log in into the application every time they needed to change a task. This was absolutely unproductive, since the process took too much time and forced the team to change their working habits.
"Productivity is one of the core values in our company. A good collaboration and project management solution is essential for getting things done in a team, especially in a distributed team," says Rurik Bradbury, chief marketing officer at Unison Technologies. "Our team works from several locations in New York, and we also have offices in Russia. We used Web-based collaboration solutions for quite a long time before adopting Wrike, but none of them actually fit into the way our team works, and none of them really made our team more productive."
Unison Technologies turned to Wrike because this e-mail-integrated project management tool had the level of flexibility their internationally distributed team was looking for. "Today, Wrike makes it really easy for us to track tasks collaboratively, even across the ocean," adds Bradbury. Thanks to Wrike's e-mail integration feature, known as Wrike's Intelligent E-mail EngineTM, no data gets lost in the workflow. "Our tasks now live in Wrike, and it means that we lose fewer assignments in random e-mails. Wrike allowed us to increase the number of completed tasks by 20 percent," reports Bradbury.
Wrike's Intelligent E-mail EngineTM allows Unison's managers to create and manage their tasks right from their e-mail boxes and thus organize the work in accordance with their personal working habits. "You just send a copy of an e-mail with an assignment to wrike@wrike.com, and it appears as a task in a shared online workspace. That's it!" explains Nic Bryson, VP of customer relations at Wrike. This simple, but powerful, feature saves Unison's managers a lot of time and helps them reduce the productivity burden of running an internationally distributed team. Moreover, Wrike's Intelligent E-mail EngineTM makes it possible to create and manage tasks on the go or even offline.
To sign up for a free, 30-day trial of Wrike, please visit http://www.wrike.com.
About Wrike
Wrike (http://www.wrike.com) is the leading on-demand, online project management and collaboration solution. It provides teams with a unique platform for collaborating on multiple projects in one workspace in real time. Wrike's collaboration features give a significant productivity gain to various small and midsize companies (http://www.wrike.com/stories.jsp) and are known to save managers up to 30 working hours per month. Its e-mail integration is the most advanced in the project management space. Wrike, Inc. has patents pending. Founded in 2003, Wrike, Inc. is a privately held corporation located in California.
###