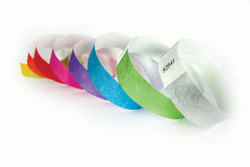 Brookfield, WI (PRWEB) March 24, 2011
Wristband Resources has developed Metallic Tyvek® wristbands that bring a new look and features to its robust line of Tyvek® wristbands.
"Our Research and Development team has been working on creating this unique color group and I believe they have been extremely successful. This new finish gives a metallic look to our Tyvek® wristbands which adds a unique luster and allows these Tyvek® wristbands to shine above the rest. "Take a look at these bands if you are searching for an elegant or unique Tyvek® wristband," says company president Bryan Waltersdorf.
Wristband Resources has tested the quality of the Metallic wristbands with its normal rigorous testing procedures and the Metallic wristbands show the same outstanding results in water resistance, adhesion, and durability. Wristco has achieved excellent custom printing results on all of the Metallic wristbands. The Metallic Tyvek® wristband is "a cut above", without spending extra dollars on plastic or vinyl.
Wristband Resources produces the Metallic Tyvek® wristband in six in-stock colors. Custom printing of the band is available as well other options such as serial numbering and bar-coding. Other choices such as additional colors and customization options are available by special order.
About Wristband Resources
Wristband Resources is a leading manufacturer of vinyl, plastic and Tyvek® wristbands used for admission and identification around the world. We make all of our products in the USA. Wristband Resources is online at http://www.wristband.com.
# # #