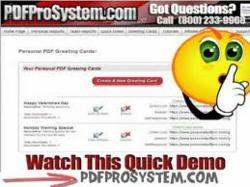 Success means doing the best we can with what we have. Success is the doing, not the getting; in the trying, not the triumph. Success is a personal standard, reaching for the highest that is in us, becoming all that we can be.
(PRWEB) September 18, 2012
PersonalPDFpro created this software for any publisher to write eBooks on any subjects, save and publish. This software has never been available before. Businesses can also update their customer and employee communication in almost every way. PersonalPDFpro provides a spam free sales funnel increasing communication and conversions.
FEATURES INCLUDE
Develop unlimited number of eBooks with covers
Develop unlimited number of Personal PDF Reports
Develop unlimited number of Team PDF Reports
Develop unlimited number of PDF Quick Notes
Develop unlimited number of PDF Greeting Cards
Each PDF has its own personal, Aweber and GetResponse link
Edit each PDF file 24 hours a day
Personalize every PDF file
Access to Webinars and Tutorials
Create Viral PDF files
Each PDF file not matter which design can be stored online
No Software to download and no Hosting required
Affiliates earn $197.00 paid directly
Complete Support Staff Available
These superior software tools include creating Personal Reports, Team Reports, Note Creation, Greeting Cards, Ebook Creaton and more.
Each PDF report using PersonalPDFpro all team member`s contact information is inserted into the report as if they produced it. Also the files can be personalized to any recipient the team members wish.
PersonalPDFpro is the leading software system serving small to large business including home business niche marketers around the world, and the first to provide user friendly software tools for writing eBooks, PDF editing, formatting and file creation features. Their mission is providing trusted user friendly PDF software systems