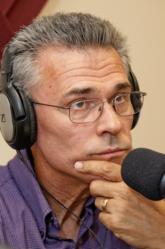 To be able to go home once again and to the library for which I hold many rich memories is indeed a rich opportunity.
Atlanta, GA (PRWEB) October 14, 2011
Dr. Tim Morrison, owner of Write Choice Services and host of Write Here Write Now on Atlanta Business RadioX, is one of 12 authors being showcased at the Lakeland Book Festival in Greenville, PA on October 22, 2011.
The event will take place at the Greenville Public Library on Main Street in Greenville where Morrison was born and raised. Dr. Morrison looks forward to returning to his hometown for this event.
Author Aita Squire whom Morrison interviewed for Write Here, Write Now during the Decatur Book Festival will also be featured at the event. Aita was at that event as a new author whose book had just been released by her publisher. Squire, a senior at the University of Pittsburgh is being featured at several book festivals this fall as a debut author.
The Lakeland Book Festival originated in 1991 and continued successfully for a number of years but then became a casualty of economic challenges in the community and was cancelled. It is back this year as part of the celebration of the 90th anniversary of the Greenville Public Library. Morrison readily acknowledges the significant role that the library and former librarian, Katherine Rock played in developing his love of reading and eventually his career change from ministry to writing. Morrison will officially release his new book, Basic Writing Tips for Emerging Writers: A Manual to Help You Focus and to Improve Your Writing from the Start at the festival.
"Over the past few years, I've been able to return to my home town as the featured speaker for a combined meeting of the Kiwanis Club and Rotary Club and again to speak on writing at St. Paul's retirement community where I met with several Vietnam veterans to get their stories about their service during the war. To be able to go home once again and to the library for which I hold many rich memories is indeed a rich opportunity and delight," says Morrison.
About Dr. Tim Morrison:
Dr. Tim Morrison is the host of Write Here Write Now and the owner and President of Write Choice Services. He is the author of 4 books including Writing Secrets: Essentials Steps to Discover How to Start. Tim has written numerous articles for various magazines and publications as well as content for curriculum, workshops and seminars. He has 2 earned doctorates: DMin and ND. Dr. Morrison lives in Marietta, GA.
About Write Here, Write Now:
Write Here, Write Now is a weekly internet radio show featuring business leaders, entrepreneurs and professionals who discuss their work and the book they have written, are in the process of writing or intend to write someday. The show is sponsored by Write Choice Services: A unique writing, editing and coaching company that provides professional help for writers and those aspiring to be published writers to write the book they've hungered to write.
About Atlanta Business RadioX:
Atlanta Business RadioX provides a turnkey solution for business owners who want to leverage the power of internet radio to meet their best prospects, establish credibility for their organization and heighten the placement of their brand in search engines rankings. With a professional venue and a proven formula, Atlanta Business RadioX helps hosts podcast their shows and create a regular stream of dynamic content to share with their prospects and feed the search engines every week. Programs are recorded and streamed live to the internet from our corporate offices in suburban Atlanta. For more information or to see a live show, visit: http://www.BusinessRadioX.com.
###