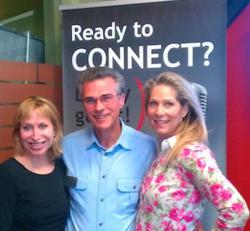 Atlanta, GA (PRWEB) October 05, 2011
On Tuesday September 27th, 2011, Atlanta Business RadioX Host Dr. Tim Morrison was joined in-studio by author and Director of Mind-Body Medicine at RC Cancer Centers Brenda Stockdale to talk about the personal experiences and professional encounters that led her to put pen to paper for her first book.
Show Host Dr. Tim Morrison says he often hears people say, "I'd like to write but what would I write about? I'm not an authority on anything." But he says, "We each are authorities on how we view and experience life and work and the world. Write about that." Guest Brenda Stockdale took that concept seriously. Brenda is the Director of Mind-Body Medicine at RC Cancer Centers where the latest research in mind-body medicine serves as an adjunct to medical treatment. While Stockdale is a clinician in the field of behavioral medicine, her own experience with life-altering and catastrophic illness provided the authority to write, in an intimate way, her book YOU CAN BEAT THE ODDS.
Brenda says she came to writing by default. In her work as national program director for the cancer support organization founded by author and surgeon, Bernie Siegel, MD, Brenda heard numerous stories from clients about their healing journeys. "Stories too good to keep to myself," she said. The clients asked for some kind of follow up program and Brenda answered with her book. YOU CAN BEAT THE ODDS is 6-week breakthrough program for optimal immunity that incorporates many of the stories shared with her in her practice. "I teach what I need to know," says Stockdale, "I look for the balance between and among body, mind and spirit. I loved working on the book because the stories that the people shared truly taught me what I needed to know, wanted to know."
The interview can be heard in its entirety online at the Write Here Write Now page for Atlanta Business RadioX.
About Dr. Tim Morrison:
Dr. Tim Morrison is the host of Write Here Write Now and the owner and President of Write Choice Services. He is the author of 4 books including Writing Secrets: Essentials Steps to Discover How to Start. Tim has written numerous articles for various magazines and publications as well as content for curriculum, workshops and seminars. He has 2 earned doctorates: DMin and ND. Dr. Morrison lives in Marietta, GA.
About Write Here, Write Now:
Write Here, Write Now is a weekly internet radio show featuring business leaders, entrepreneurs and professionals who discuss their work and the book they have written, are in the process of writing or intend to write someday. The show is sponsored by Write Choice Services: A unique writing, editing and coaching company that provides professional help for writers and those aspiring to be published writers to write the book they've hungered to write.
About Atlanta Business RadioX:
Atlanta Business RadioX provides a turnkey solution for business owners who want to leverage the power of internet radio to meet their best prospects, establish credibility for their organization and heighten the placement of their brand in search engines rankings. With a professional venue and a proven formula, Atlanta Business RadioX helps hosts podcast their shows and create a regular stream of dynamic content to share with their prospects and feed the search engines every week. Programs are recorded and streamed live to the internet from our corporate offices in suburban Atlanta. For more information or to see a live show, visit: http://www.BusinessRadioX.com.
###