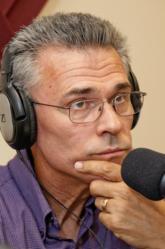 Jim Elledge is both an educator and an author so he understands the information authors need to write and launch their books.
Atlanta, GA (PRWEB) September 22, 2011
On Tuesday September 20th, 2011, Atlanta Business RadioX Host Dr. Tim Morrison sat down with author and Kennesaw State Program Director Jim Elledge to talk about the upcoming PUBLISHERS, AGENTS & MEDIA INSTITUTE, which will be hosted at KSU this October.
As the two talked, Elledge detailed the many ways that Kennesaw State University supports writers. For example, the program he directs, The Master of Arts in Professional Writing (MAPW) degree is a professional graduate degree program that prepares candidates for a wide variety of writing-related positions in business, education, publishing, and the arts. He further noted that many non-traditional students complete this program and use writing as a way to expand creativity in their current career or to transition to a new career.
Another group affiliated with KSU is the Georgia Writers Association (GWA), which is a nonprofit organization that works across the state to encourage and strengthen the proficiencies of writers in both the creative and the business aspects of the writing life.
These two organizations have joined forces to host THE PUBLISHERS, AGENTS & MEDIA INSTITUTE, which will be held at KSU on October 1, 2011. This one-of-a kind conference draws from the talents of nationally recognized publishers, self-publishers, social media and digital media experts to present workshops throughout the day. The investment to attend is $180.
Elledge explains, "There are many conferences available on how to become a better writer. We saw a need for a conference where writers could learn information about self-publishing, traditional publishing and marketing using social media and more. Publishers, Agents & Media Institute is designed to answer those questions."
In addition to chatting about the upcoming conference, Elledge and Morrison talked about Elledges writing and his work at KSU. Morrison states, "Jim Elledge is both an educator and an author so he understands the information authors need to write and launch their books. As the publishing industry changes, Jim is looking for new ways for MAPW to provide information to students and writers through collaboration with other KSU departments, organizations and business professionals involved in publishing."
The interview can be heard in its entirety online at the Write Here Write Now page for Atlanta Business RadioX.
About Dr. Tim Morrison:
Dr. Tim Morrison is the host of Write Here Write Now and the owner and President of Write Choice Services. He is the author of 4 books including Writing Secrets: Essentials Steps to Discover How to Start. Tim has written numerous articles for various magazines and publications as well as content for curriculum, workshops and seminars. He has 2 earned doctorates: DMin and ND. Dr. Morrison lives in Marietta, GA.
About Write Here, Write Now:
Write Here, Write Now is a weekly internet radio show featuring business leaders, entrepreneurs and professionals who discuss their work and the book they have written, are in the process of writing or intend to write someday. The show is sponsored by Write Choice Services: A unique writing, editing and coaching company that provides professional help for writers and those aspiring to be published writers to write the book they've hungered to write.
About Atlanta Business RadioX:
Atlanta Business RadioX provides a turnkey solution for business owners who want to leverage the power of internet radio to meet their best prospects, establish credibility for their organization and heighten the placement of their brand in search engines rankings. With a professional venue and a proven formula, Atlanta Business RadioX helps hosts podcast their shows and create a regular stream of dynamic content to share with their prospects and feed the search engines every week. Programs are recorded and streamed live to the internet from our corporate offices in suburban Atlanta. For more information or to see a live show, visit: http://www.BusinessRadioX.com.
###