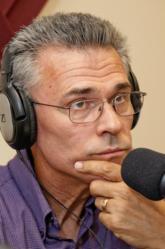 Rather than bemoaning the frustration of not getting published, Brent Sampson studied the terrain, examined what was available for writers to get published and decided there had to be a better way
Atlanta, GA (PRWEB) August 01, 2011
On July 26th, 2011, Atlanta Business RadioX Host Dr. Tim Morrison had the opportunity to sit down with the CEO and Founder of one of Inc. Magazines Top 5000 fastest growing businesses in 2009 and 2010. Brent Sampson founded Outskirts Press in 2003 and has turned into the premier source for full service self-publishing.
Morrison talked to Sampson about his own desire to become a published author and the frustrations he experienced that motivated him to develop Outskirts Press.
"Rather than bemoaning the frustration of not getting published, Brent Sampson studied the terrain, examined what was available for writers to get published and decided there had to be a better way. Outskirts Press is the result of that process and he continues to tweak the company's processes to meet the needs of writers by participating in all aspects of the business. When Sampson speaks he speaks not only as a publisher but also as an author who knows the challenges and frustrations and hope and dreams of getting published," says Morrison.
Sampson explains, "I'm the guinea pig for our company. I want to really know that what we say we offer we do. As an example I wrote a children's book to see how our illustrators work and our process works. I want to see what comes out at the other end. I want to know what the hurdles are and the benefits are in the processes we offer. I want to make sure that what we offer works for those who seek our services."
The interview can be heard in its entirety online at the Write Here Write Now page for Atlanta Business RadioX.
About Write Here, Write Now:
Write Here, Write Now is a weekly internet radio show featuring business leaders, entrepreneurs and professionals who discuss their work and the book they have written, are in the process of writing or intend to write someday. The show is sponsored by Write Choice Services: A unique writing, editing and coaching company that provides professional help for writers and those aspiring to be published writers to write the book they've hungered to write.
About Atlanta Business RadioX:
Atlanta Business RadioX provides a turnkey solution for business owners who want to leverage the power of internet radio to meet their best prospects, establish credibility for their organization and heighten the placement of their brand in search engines rankings. With a professional venue and a proven formula, Atlanta Business RadioX helps hosts podcast their shows and create a regular stream of dynamic content to share with their prospects and feed the search engines every week. Programs are recorded and streamed live to the internet from our corporate offices in suburban Atlanta. For more information or to see a live show, visit:
http://www.BusinessRadioX.com.
###