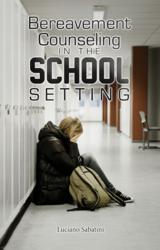 "What motivated me to write this book were the kids I worked with."
Omaha, NE (PRWEB) December 26, 2012
Dr. Luciano Sabatini's much anticipated book, "Bereavement Counseling in the School Setting" is now available for pre-sale. The book is scheduled for a full release in early January 2013.
Dr. Sabatini's book focuses on counseling students who have lost a family member. This includes working with students immediately after the loss as well as long-range interventions, such as support groups. As a member of school crisis teams, Dr. Sabatini has professional experience in developing policies and procedures for crisis situations. He has written articles on some of the research he has done in professional journals, such as Omega: Journal of Death and Dying, and has written articles on best practices for the Nassau Counselor's Association newsletter, NewsCAster.
"What motivated me to write this book were the kids I worked with," he said. "The way they faced adversity; the way they had to take on adult responsibilities…I became fascinated with the challenges and how little attention was paid by the school community. (We) respond to kids right after a tragedy or for a couple weeks but that's it."
Dr. Sabatini's book offers a guide to school-based staff, especially those involved in crisis counseling, on how to assist students through crisis intervention teams, educational awareness and support groups. He also offers school leaders best practices in supporting grieving students and in managing a school grieving the death of a student.
"Bereavement Counseling in the School Setting" is published by WriteLife LLC, a collaborative publishing company based in Omaha, NE. For more information on this book or any of WriteLife's other publications, visit http://www.writelife.com. Publicity requests and speaking engagement inquiries may be routed to Cindy Grady (877-974-8354).
ABOUT DR. LUCIANO SABATINI
Dr. Luciano Sabatini has worked in secondary schools for over 37 years as a teacher, school counselor and guidance director. He also has a private practice in bereavement counseling where he works with the newly bereaved individually or in support groups, and he is an adjunct professor at Hofstra University where he teaches a graduate course, Counseling for Death, Dying and Bereavement.
ABOUT WRITELIFE LLC
WriteLife is a collaborative publishing company. They offer an interactive way for writers to become published and market their literary work. For more information on WriteLife, visit http://www.writelife.com. This title was produced in collaboration with Grief Illustrated Press/Centering Corporation. GIP's collection of resources includes titles from well-known grief authors, as well as Grief Digest, a quarterly magazine. For more information on Grief Illustrated Press, visit http://www.centering.org/GIP.