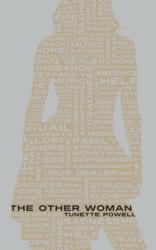 "Tunette's story of her relationship with her father and of his own relationship with drugs is a book that should be read."
Omaha, NE (PRWEB) December 21, 2012
Tunette Powell's long-awaited debut memoir "The Other Woman" is now available for pre-sale. The book is scheduled for a full release in early January 2013.
"The Other Woman" is a bold recollection of Powell's experience growing up the daughter of a long-term addict. It chronicles her father Bruce Callis' 30-year crack addiction while revealing the impact his choices had on her own life. Powell's is an emotional story that provides a glimpse into what happens to the children of addiction and a lesson in forgiveness, growing up and going on.
Excerpts of the book have been available to subscribers for several months, but December 18 marks the first time "The Other Woman" was available for pre-sale online.
"I am so excited!" said subscriber Annie Torres. "I'll probably lock myself in my room for a whole day just to read it!"
"Tunette's story of her relationship with her father and of his own relationship with drugs is a book that should be read," said fantasy novelist Kenneth C. Flint. "In 30 years as a writer and writing teacher, I can honestly say I have not encountered a style which impressed me more."
"The Other Woman" is published by WriteLife, LLC. For more information about this book, please visit http://www.writelife.com or http://www.tunettepowell.com. Publicity requests and speaking engagement inquiries may be routed to Brent Comstock (402-414-1909) or Cindy Grady (877-974-8354).
About the Author:
Tunette Powell is an accomplished journalist, author and public speaker who blogs about parenting for the Omaha World-Herald. She has also written extensively about San Antonio's African American community and the passing of local prominent figures for the San Antonio Express-News, her hometown newspaper. She is a graduate of the University of Nebraska at Omaha. Powell resides in Omaha, Neb., with her husband and two children.
About WriteLife:
WriteLife is a collaborative publishing company. They offer an interactive way for writers to become published, and market their literary work. For more information on WriteLife, visit http://www.writelife.com.
# # #