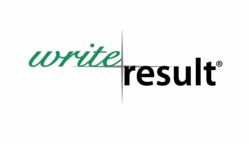 Cranford, NJ (PRWEB) May 03, 2012
WriteResult, leading provider of clinical data management solutions, will be exhibiting at CBI's 9th Forum on Patient Reported Outcomes event from May 7-8 at the Doubletree Hotel Philadelphia Center City. The company will be exhibiting live demonstrations of their innovative digital writing ePRO solution. WriteResult's digital writing solution empowers the efficiency of electronic data capture with the ease of pen and paper. This time- and cost-saving technology has been successfully implemented in over a dozen Phase I, II and III clinical trials around the world. Visitors to the WriteResult booth will have the opportunity to see how this technology works and will also have a chance to enter to win an iPad!
The 9th Forum on PRO event will benefit those professionals specializing in clinical areas such as Data Management, Patient Compliance, Study Management and Operations. The agenda features speakers from top tier pharmaceutical companies such as Novartis, Pfizer, Eli Lily and Endo Pharmaceuticals.
For more information on this event, please visit CBI's website.
About WriteResult
WriteResult offers full-service data management solutions for clinical research through the collection and verification of ePROs leveraging digital pen and paper technology. Since 2006 WriteResult has partnered with study sponsors to deliver a simple and effective ePRO solution — rapid study startup with clean, real-time data using a technology that's intuitive for sites and patients.
For more information about WriteResult, please email solutions(at)writeresult(dot)com or call (908) 272-4787.