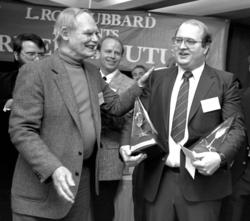 This is a very short description of your life, but it could be made even shorter. A single word can describe it: it is very close to what every previous age of mankind would call "utopia
Hollywood, CA (PRWEB) May 15, 2012
Science fiction authors are known for their ability to write the history of the future in their stories of civilizations to be and grand quests of conquest yet to be realized. But less often are they actually called upon as prognosticators of more immediate futures—such as a quarter century.
In a recently opened time capsule sealed 25 years ago at the Writers of the Future awards ceremony held atop the World Trade Center in April 1987, such was the case with many of the most well known writers of speculative fiction posing their predictions. One such forecast was from science fiction's Grand Master Frederik Pohl ("Gateway" and long time judge of the L. Ron Hubbard Writers of the Future Contest.)
Reading the following forecast serves as proof as to why Pohl is in fact a Grand Master at writing future histories.
"Dear People of the Future,
"In my day there were professional entertainers, and fake psychics, who specialized in telling total strangers all sorts of intimate details about themselves. The process was called "cold reading". I've never done it before, but I think I can do it for you. I think I can tell you quite accurately what your lives are like as you open this time capsule.
"For example, you live in a world at peace. Something like the World Court, as an arm of something like the United Nations, resolves international disputes, and has the power to enforce its decisions. For that reason, you live in a world almost without weaponry; and, because you therefore do not have to bear the crippling financial burden of paying for military establishments and hardware, all of you enjoy an average standard of living about equal to a contemporary millionaire's. Your health is generally superb. Your life expectancy is not much less than a century. The most unpleasant and debilitating jobs (heavy industry, mining, large-scale farming) are given over to machines; most work performed by human beings is in some sense creative. The exploration of space is picking up speed, both by manned colonization and robot probes, and by vast orbiting telescopes and other instruments. Deforestation, desertification and the destruction of arable land has been halted and even reversed. Pollution is controlled, and all the winds and the waters of the Earth are sweet again.
"This is a very short description of your life, but it could be made even shorter. A single word can describe it: it is very close to what every previous age of mankind would call "utopia".
"How do I know these things?
"It isn't because I've made a probabilistic assessment of present-day trends. Quite the contrary. All the evidence of what is going on in the world today leads to the conclusion that none of these good things are going to happen, because our country, the richest and most powerful nation in the history of the world'(and, I have always thought, the best) is bankrupting itself to recruit and train terrorists in Latin America, give arms to terrorists all over the world, develop and deploy fleets, armies and weapons systems which have no purpose except to pound any country which disagrees with us into submission. Since, unfortunately for us, the people who disagree with us have terrorists, fleets, armies and weapons systems of their own, the most plausible future scenario is all-out nuclear war.
"It is therefore clear that to make the predictions above is to bet recklessly against the odds.
"It's still a good bet, though.
"In fact, I don't see how I can lose it. Anyone opening the capsule to read these lines will have to agree that my low probability predictions pretty well describe the actual turn of events...because if the high-probability ones of mass destruction and species suicide should prevail no one is likely to be around to read them."
About The Writers Of The Future
For more information on the Writers of the Future ceremony where the predictions were revealed, go to http://www.writersofthefuture.com .
The Writers of the Future writing contest was initiated by L. Ron Hubbard in 1983 to provide a means for aspiring writers to get that much-needed break. Due to the success of the Writing Contest, the companion Illustrators of the Future Contest was created in 1988.
The intensive mentoring process has proven very successful. Past winners of the Writing Contest have published over 750 novels, 3,500 short stories and winners of the Illustrating Contest have had their art published in more than 500 books and magazines, with 4,500 illustrations, 350 comics and over 1.3 million art prints.