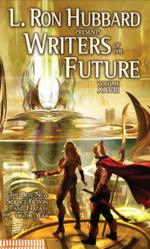 Hollywood, CA (PRWEB) May 30, 2012
L. Ron Hubbard Presents Writers of the Future Volume 28 edited by K.D. Wentworth was announced as winner of the 2012 International Book Awards in the Short Story Fiction category it was announced by the JPX Media Group.
Writers of the Future, now in its 28th year, features cover art entitled "Beyond Babylon" by international award winning artist and Illustrators of the Future Contest judge Stephen Youll.
This year's contest winners came from countries as diverse as Taiwan, Australia, Sweden, UK, Poland, Canada as well as the US and are flown in by the Contests to attend a week long workshop taught by contest judges —including New York Times bestselling author Kevin J. Anderson (Dune series), World Fantasy Award winner Tim Powers (On Stranger Tides, adapted as the 4th Pirates of the Caribbean film), multiple Hugo and Nebula award winner Robert J. Sawyer (Flash Forward and The WWW Trilogy), Hugo and Nebula award winning author Larry Niven (the Ringworld series), and internationally acclaimed artists, Stephan Martiniere (visual designer for the game Myst and concept artist for Star Wars: Episodes II and III, Tron Legacy and Star Trek), Stephen Hickman (over 350 book and magazine covers), Robert Castillo (S.P.I.C. The Storyboard of my Life), and Cliff Nielsen (cover artist for Chronicles of Narnia)—each one an experienced professional in the field providing sound advice based on hard-won experience.
About The Writers of the Future
The Writers of the Future writing contest (http://www.writersofthefuture.com) was initiated by bestselling author L. Ron Hubbard in 1983 to provide a means for aspiring writers to get that much-needed break. Due to the success of the Writing Contest, the companion Illustrators of the Future Contest was created in 1988.
The intensive mentoring process has proven very successful. Past winners of the Writing Contest have published over 750 novels, 3,500 short stories and winners of the Illustrating Contest have had their art published in more than 500 books and magazines, with 4,500 illustrations, 350 comics and over 1.3 million art prints.
For more information go to http://www.writersofthefuture.com.
To see the awards ceremony online, go to http://www.youtube.com/writersofthefuture.
###