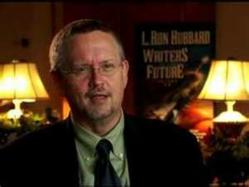 Hollywood, CA (PRWEB) May 10, 2012
Predictions from several highly acclaimed science fiction writers and scientists were recently revealed from a time capsule sealed 25 years ago at The Writers of the Future awards ceremony held atop the World Trade Center in April 1987. One such forecast was from NYT and international bestselling author Orson Scott Card ("Enders Game") and long time judge of the L. Ron Hubbard Writers of the Future Contest.
In his forecast for 2012, Card wrote, "We must count ourselves lucky if anyone has leisure enough in 2012 to open this time capsule and care what is inside. In 2012 Americans will see the collapse of Imperial America, the Pan Americana, as having ended with our loss of national will and national selflessness in the 1970s. Worldwide economic collapse will have cost America its dominant world role; but it will not result in Russia hegemony; their economy is too dependent on the world economy to maintain an irresistible military force. A new world order will emerge from famine, disease, social dislocation: The re-tribalization of Africa, the destruction of the illusion of Islamic unity, the struggle between aristocracy and proletariat in Latin America—without the financial support of the industrialized nations, the old order will be gone. The changes will be as great as those emerging from the fall of Rome, with new power centers emerging wherever stability and security are established. The homogeneity of Israel will probably allow it to survive; Mexico & Japan may change rulers, but they will still be strong. If America is to recover, we must stop pretending to be what we were in 1950, and reorder our values away from pursuit of privilege."
For more information on the Writers of the Future and to see other revealed predictions from the time capsule, go to http://www.writersofthefuture.com .
About The Writers of the Future
The Writers of the Future writing contest was initiated by L. Ron Hubbard in 1983 to provide a means for aspiring writers to get that much-needed break. Due to the success of the Writing Contest, the companion Illustrators of the Future Contest was created in 1988.
The intensive mentoring process has proven very successful. Past winners of the Writing Contest have published over 750 novels, 3,500 short stories and winners of the Illustrating Contest have had their art published in more than 500 books and magazines, with 4,500 illustrations, 350 comics and over 1.3 million art prints.