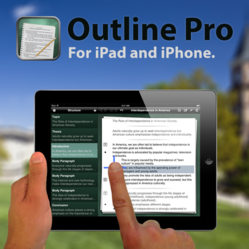 Students at every level have improved in their writing as a result of using this app.
Boston, MA (PRWEB) April 18, 2013
Collaboratively produced, an iPad writing app dubbed 'Outline Pro' by creators Princeton Academy of the Sacred Heart and IT Launchpad, lets writers create detailed outlines and makes it easy to organize their introduction, body and conclusion paragraphs. It promotes collaboration with teachers and peers with full Dropbox and Google Drive integration and exports PDF, text and OPML files to use with other apps. Outline Pro also lets users cite sources, track word counts and provides templates for papers, essays and speeches.
RESULTS OF THE CLASSROOM PILOT
Outline Pro was piloted with Princeton Academy's 7th and 8th grade English classes under the direction of English teacher Matt Trowbridge. Since Mr. Trowbridge's first homework assignment to his students using the new app, Outline Pro has been a major success at improving the writing quality of students at Princeton Academy.
"Students at every level have improved in their writing as a result of using this app. Those who already had sound structure have improved their transition and flow from paragraph to paragraph." - Matt Trowbridge, Princeton Academy of the Sacred Heart
A user survey by Princeton Academy during the pilot in 2012 showed that 83% of students found Outline Pro to be helpful and 65% of students would create outlines for classes and assignments out of their own initiative.
OUTLINE PRO SOLVES A MAJOR, MODERN EDUCATIONAL PROBLEM
iPads are best known for content consumption, such as reading emails and surfing the web. Unfortunately, they haven't been ideal writing devices when it comes to writing a long work, like a school paper. In fact, many teachers have noticed a decline in the quality of their students' work after iPads were introduced into their classrooms. Matt Trowbridge at the Princeton Academy was one of these teachers.
So, why does it happen? The first reason is that most apps don't focus on making it enjoyable--or even feasible--to write a lot. The second, more elusive, reason is that students aren't thinking of content creation the same way as they did with pen and paper. They're ready to surf the web, or even perform research, but to write well they need an app that keeps them focused on the layout and quality of their ideas.
"This was one of my main concerns after moving to the smaller screen of the iPad. [Outline Pro] gives those who struggle with paragraph and essay structure the scaffolding that they need and the template to extend their ideas... As they progress through the writing process, writers are anchored by a frequent reminder of the main point they are trying to defend and support." - Matt Trowbridge, Princeton Academy of the Sacred Heart
IT Launchpad contacted Princeton Academy looking to partner in developing educational apps and the timing was perfect. Mr. Trowbridge, together with Princeton Academy's technology coordinator Michael Taggart, worked with IT Launchpad to help students write better.
A month later, IT Launchpad released the first version of Outline Pro for iPad to be piloted with Princeton Academy's students. They've been making updates and improvements ever since, and even released an iPhone version.
NOT JUST AN AMERICAN (OR ENGLISH) PROBLEM...
Since its App Store launch in March 2012, Outline Pro has made its way into the hands of many thousands of users worldwide. It's being used in over 100 classrooms and has been featured by Apple on the App Store in the U.S., U.K. and 123 other countries. Outline Pro is also the first outlining app to fully support all languages, including Arabic and Hebrew, which are written from right to left.
Anton Yakushin, Director and Founder of IT Launchpad describes the progress since launching Outline Pro: "We've been making Outline Pro better and better for the past year. It's a great app for students at every grade level, and we've incorporated feedback and suggestions from hundreds of users, from middle school writers to postgraduate students. We also released an iPhone version with iCloud sync, so users can edit their outlines on the go."
While IT Launchpad will continue to improve Outline Pro, they are also looking into additional app opportunities to improve iPad-based education.
To learn more about Outline Pro, visit the official website at http://www.outlineproapp.com or the App Store at https://itunes.apple.com/us/app/outline-pro-for-ipad/id506445157?mt=8 (iPad app) and https://itunes.apple.com/us/app/outline-pro-for-iphone/id621570089?mt=8 (iPhone app).